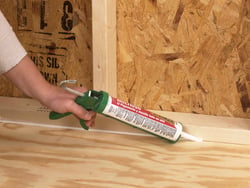 Like last year, some of our best-performing blog posts focused on air sealing and proper installation and application of fiberglass and mineral wool insulation, which is no surprise, since we're the Insulation Institute. However, other topics like energy efficiency design trends and the prioritization of energy efficiency over energy generation ranked highly as well.
Whether you've been an occasional reader or a regular visitor, we genuinely appreciate the engagement and comments and look forward to bringing you fresh, and relevant content in 2020.
Our Top 10 Performing Blogs of 2019 are:
The Best Time to Air Seal – Our top-performing blog post of this year featured a conversation with Accuframe's Michael Schettine on why builders should re-think their approach to air sealing to ensure more airtight homes.
3 Basics for Visibly Great Insulation Jobs – We do sometimes get a little misty-eyed looking at photos of fabulous insulation installation jobs, so when we came across SuperSeal Insulation's work on LinkedIn (of all places!), we had to reach out to owner Yudah Schwartz to get the scoop on the secrets to his success.
3 Things to Stop Doing with Batts – There are simple mistakes that some insulation contractors are making when installing fiberglass batts. Here's a look at the most common ones.
Award-Winning Builds…Even at the Low End – Insulation Institute talked with North Carolina builder and two-time Housing Innovation Award-Winner Shawn Jessup of S.D. Jessup Construction about his method for constructing award-winning homes.
RESNET Launches New Consumer Site – RESNET's HERS rating is ubiquitous in the building industry, but consumers often don't know much about this miles-per-gallon rating of homes. RESNET's on a mission to change that with its new consumer site.
Designers Report on Energy Efficiency Trends – The 2019 Energy Efficient Home Design Trend Report features analysis compiled from interviews of 25 experts in the home design industry on trends in energy-efficient home features, design, and building trends.
The Air Sealing Learning Curve – Building Performance Institute Certified Analyst, Building Performance Specialist and ICC Residential Energy Inspector Jonathan Lang talks about ways builders can overcome the significant challenges they face in meeting new airtightness requirements.
Matt Risinger Might've Made Our Day! – NAIMA staff member Stacy Fitzgerald-Redd chatted briefly with Matt Risinger during the 2019 IBS Show. Risinger affirmed a message that we at Insulation Institute repeats frequently. Read the blog post to find out what he said.
HERS Raters Boost EE Competency for Builders – RESNET Deputy Director Cardice Howard reviewed the many ways that HERS Raters can be influential partners through builders of energy-efficient homes.
Building Envelope Efficiency Without Compromise – A report from the American Council for an Energy-Efficient Economy (ACEEE) urges that energy savings remain the top priority in meeting new home energy code requirements while energy generation should be a lesser priority.