Designers Report on Energy Efficiency Trends
Fixr.com recently published its 2019 Energy-Efficient Home Design Trends Report. The study's authors interviewed 25 experts in the home design industry to peg upcoming trends in energy-efficient home features, design, and building trends. These experts have a pulse on what consumers want in design but are also savvy about energy efficiency and its importance to home buyers.
The report reaffirms the importance of home energy efficiency for homeowners and includes interesting analysis and predictions for building envelope technology.
Topline Findings
The design experts interviewed saw the following trends when it came to energy efficiency in home building:Most homeowners are personally motivated to save energy so they can save money.
Homeowners possess significant environmental awareness, which is driving some decisions.
Ducts and windows are the two most effective places to save though air sealing.
Heat pumps are the most popular method to heat an energy-efficient home.
Tankless heaters are the most efficient way to heat water.
Solar power remains the most common way to utilize renewable energy in a home.
Cellulose and fiberglass insulation are tied for the most popular way to insulate an attic.
Building Envelope Insights
Among the more interesting findings of the report are the design experts' opinions of building envelope technology, particularly exterior wall insulation. Of the various materials available, 72% of experts liked fiberglass batt insulation, while 20% said spray foam is a more popular option. Fix'r notes that the preference for fiberglass could be due to reports that spray foam insulation creates moisture problems inside walls.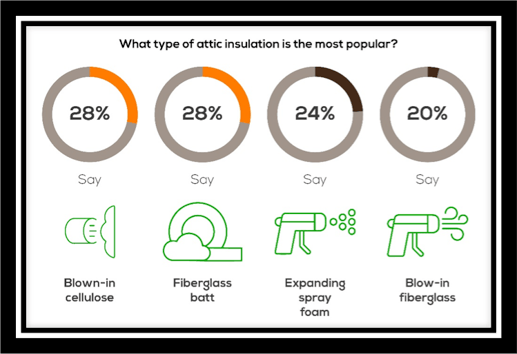 When asked what type of attic insulation is the most popular, 28% of respondents reported seeing blown-in cellulose, and fiberglass batts installed most often, and 20% reported seeing blown-in fiberglass insulation. Twenty-four percent of respondents reported seeing spray foam being popular.
Respondents were also asked what they believe will be the most popular advanced envelope technology in the future. Nearly one-third predicted greater use of structurally insulated panels.
Air Sealing
Experts were asked to rate the efficacy of air sealing several areas within a home on a scale of 1 to 5. Covered areas included exterior wall outlet boxes, attic hatch opening, HVAC ducts, recessed lighting fixtures, pipe wall penetrations, windows, and doors. Respondents rated windows and doors as the most effective areas to air seal, followed by HVAC duct sealing, pipe wall penetrations, and attic hatch openings.
The experts also prioritized several of the five priority air sealing locations in new homes, as highlighted in our new guide.