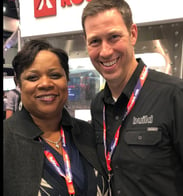 We at Insulation Institute spend a good deal of our time talking up the benefits of using fiberglass and mineral wool insulation. As much of the content of our blog is geared toward new residential construction, we value connecting with builders who use these products to achieve high-performance new home construction. So, we were thrilled to catch up with Matt Risinger, a Texas home builder and building science enthusiast (and a rock star) who specializes in high-performance, architect-driven home building during the International Builders Show. We've heard Matt speak at the International Builders Show in the past and we know his time is a valuable commodity, so we only asked him one question during our brief chat. His answer didn't disappoint.
What We Wanted to Know
If you follow Risinger's YouTube channel as we do, you know he talks about building science and craftsmanship and also does building product reviews. His expertise and experience make him a highly sought-after influencer in residential home building, thus when he talks, people listen.
We've seen Risinger use a range of insulation products in his residential builds, including fiberglass and mineral wool, cellulose, and closed-cell spray foam. Given the fact that he's used a range of insulation products, we wondered if he bought into the notion of a "superior" performing insulation product, so we asked one question: "We're seen you talk about using both fiberglass and mineral wool insulation products in your builds, why both?"
Without hesitation, Risinger said, "Because any insulation product can perform well when you install it right, whether it's fiberglass or mineral wool. It's all about the installation, and if that's done properly, you can get a highly energy-efficient home using these products."
Risinger made our day!
More on Proper Installation and High Performance
If you're a builder, rater, or contractor looking for a few resources that also conclude that you can get to high-performance home targets using fiberglass and mineral wool insulation batts with proper air sealing and installation we've included a few below:
Building Science Corporation's Thermal Metric Report – Concludes that all insulation products perform essentially the same when properly air sealed and installed.
High Performance at the Right Price – Four ways to use fiberglass batts in new home construction to achieve outstanding thermal performance that costs less.
Grade I Installation – Why Builders Should Care – Covers why contractors should be installing batt insulation to Grade I specifications and discusses the role of insulation contractors, HERS raters, and builders in ensuring Grade I, as well as the estimated penalty for Grade III installation by climate zone.
Photo credit: Insulation Institute's Director of Marketing & Communications Stacy Fitzgerald-Redd with Matt Risinger during the International Builders Show.