RESNET Launches New HERS for Consumers Site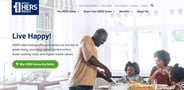 With nearly one-quarter of new homes carrying a HERS rating, consumers in the energy-efficient home market need to understand why this metric, similar to the miles-per-gallon rating of new cars, is key to
evaluating a home's energy efficiency. To help consumers better understand HERS ratings and the benefits of a HERS-rated home, Residential Energy Services Network (RESNET®) has launched a new consumer website and will conduct a consumer campaign this year to increase awareness.
Increasing Demand for HERS Homes
The number of HERS-rated homes in 2018 was 236,116 — up more than 8,000 over the previous record year in 2017. That equates to significant annual energy bill savings. The increasing interest in home energy performance among consumers means that builders can't afford to ignore this trend. The RESNET consumer site will give those builders who chose to construct HERS-rated homes a ready resource for home buyers who want to learn more about HERS-scored homes and how the rating can signify a home that will make the cost of home ownership more affordable.
"As part of our consumer campaign launching later this year, we invite builders to use the new HERSIndex.com site to show homebuyers the numerous benefits of living in a HERS Rated home, such as lower cost of home ownership, improved comfort, energy savings, potential higher resale value, and more," said Valerie Briggs, communications director for RESNET. "With features on the new site like the interactive HERS Index Scale, builders can show how the HERS scores of their homes compare to other homes in their market. A HERS-rated home that is third-party inspected and labeled according to national industry standards is a standout compared to other homes."
Competitive Advantage for Builders
A survey conducted by Harris Insights & Analytics in the fall of 2018 found that 87 percent of home buyers and 89 percent of builders rated energy-efficient homes as a high or somewhat high priority. Since buyers have an exceptionally high interest in energy efficiency, builders who are currently constructing HERS rated homes should use all available resources such as RESNET's new website to market their services. And builders not currently constructing homes to a high-performance standard may want to consider whether they should be investigating this rising trend.