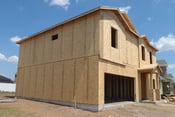 With 2018 coming to a close, we reviewed the most read blog posts of the year. Air sealing was our most popular topic. With more states adopting stronger energy codes, readers were very interested in how to use high-performance building practices and proper air sealing to achieve new air tightness targets.
Here is a list of the blog posts that spurred the most interest among our readers in 2018. We look forward to providing you with new, relevant, and engaging content in 2019 and we wish you all a Happy New Year!
#1. Two Air Leakage Areas Blindsiding Builders – Fox Energy Specialists James Rodriguez shared information on two air leakage areas that are catching builders off guard as they look to meet new air tightness requirements of the IECC 2012/15.
#2. Our Insulation Field Trip – Insulation Institute staff took a field trip out to two new construction homes in the Washington metro area and reviewed their air sealing and insulation with a quality assurance leader. See what we found.
#3. Guide to Unvetted Attics with Fiberglass and Mineral Wool – The 2018 International Residential Code (IRC) allows the use of air-permeable insulation in unvented attics. Get all the details in our guide.
#4. Fiberglass Among the Best Insulation Materials – Fiberglass insulation received a ringing endorsement in a recent report by Energy Efficiency for All. The report examines the health impacts of material used in weatherization and energy upgrades for low-income multifamily housing. The report recommends using fiberglass insulation "whenever possible."
#5. What's in a Frame? – Norbord's Doug McNeil talked with Insulation Institute about how builders can implement small changes in framing to get big results in home energy efficiency – without substantially increasing costs.