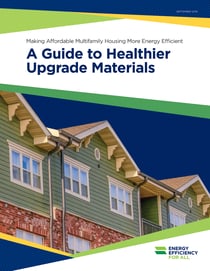 Fiberglass insulations received a ringing endorsement in a recent report by Energy Efficiency for All (EEFA) that examines the health impacts of materials used in weatherization and energy efficiency upgrades for low-income multifamily housing stock.
The report reviews the materials used in these retrofits and ranks products – including various types of insulation – from least to most hazardous. According to the report, fiberglass insulations are among "the best insulation materials from a health perspective….and we recommend their use whenever possible."
Improving Health for Low-Income Residents
Building owners often undertake a weatherization or energy efficiency project to reduce energy use. The effort can also significantly improve residents' health by reducing thermal stress, asthma symptoms, and energy costs, according to the study. Less understood though, is the potential implications resulting from the choice of materials used in the upgrade. Many materials, the report notes, can contain "persistent, bioaccumulative, or toxic chemicals and either show evidence or are suspected of being asthmagens, reproductive or developmental toxicants, endocrine disruptors or carcinogens."
EEFA, therefore, urges those involved in the decision-making process regarding energy efficiency upgrades to consider the health impacts of the most vulnerable – people who frequently have limited access to healthcare — when making product selections for energy-efficient upgrades.
Insulation + Air Sealing: Ranking Healthier Alternatives
In a summary of the insulation recommendations in the report, EEFA notes that "when considering the type of materials to use, selecting healthy insulation products should be as important — if not more important — than cost and comfort."
The top-ranked insulation product according in the study is expanded cork board, a product that is free of hazardous content, but expensive, not widely available, and one that requires advanced planning to allow for its use. However, more widely available and cost-effective products, including fiberglass insulations (blown-in, unfaced and kraft-faced), are also preferred from a health perspective and because they provide among the lowest installed cost for any given R-value.
In recognition of the critical importance of air sealing in improving energy efficiency, the report also ranks air sealing products. Among top air sealing material recommendations are caulk-type sealants and foam sealing products that are not reacted on site.[1]
Conclusion
The report concludes that as energy efficiency investments proliferate, all stakeholders involved should ensure that the benefits of such investments are equally available to low-income populations served by affordable, multi-family residential housing and calls on builders to include healthier building materials in their multifamily housing upgrades. Furthermore, it advocates for more disclosure and transparency in the chemical content of building products and leveraging policy actions to create a demand for healthy materials.
"We envision a future when upgrades make buildings energy efficient, create environments that promote health and contribute to the well-being of communities living in affordable housing."
[1] Making Affordable Multifamily Housing More Energy Efficient, p. 25.