Our Insulation Field Trip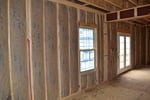 The Insulation Institute is committed to addressing and educating the market on quality installation, conducting training sessions and developing an extensive guide on how to get Grade I installation. Since we represent the insulation industry, we like to get out in the field from time-to-time and see how the products our members manufacture are installed.
So, when we had an opportunity to visit two Maryland homes currently under construction just after the insulation had been installed we jumped at the chance.
What We Saw
We visited two homes in Maryland (Climate Zone 4) with the quality assurance (QA) leader for the builder. In our conversations with the QA leader, we learned that the builder is all Energy Star rated and would be seeking certification for these homes. We were pleased to see a QA leader on the project since our research has shown that having a QA leader/superintendent inspect the quality of the insulation installation is critical to achieving repeatable Grade I ratings.
With a small group of staff, we toured the first home and took photos of critical locations and detailed work in areas including wall cavities, dropped soffits, electrical boxes, and bathtubs. We observed that the installation crew did Grade I work throughout the home and was particularly detailed in handling small areas, being careful to air seal behind insulation in the bathtub area, for example (see photo in our Guide to Proper Installation, p. 3).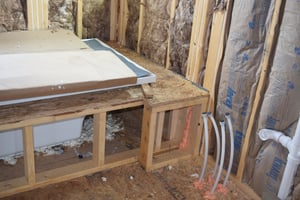 Our QA Leader told us that crews had all been trained and were accustomed to the inspection, which generally led to more precise work and fewer callbacks. This wasn't a surprise since we know that routine inspections and close communication with HERS raters on projects result in higher quality and fewer missed areas when air sealing.
During the second home inspection, we noted the detailed work in installing the insulation again. On examination, the QA Leader also labeled it Grade I. This home included longer "Tall Wall" sheathing, which covered the top plates to maximize air sealing (this is one of the areas we cover in our new guide, 5 Priority Air Sealing Locations for New Homes).
As the QA Leader inspected the insulation around one of the home's three bathtubs, he noted there was no interior air barrier behind the insulation in the bathtub, which would require a call back to fix. There were no other issues with missing insulation, air sealing or gaps, voids, misalignments or compression. Kudos to both crews who completed those two jobs for their overall great work.
Quality Assurance Makes a Difference
In the best insulation installation jobs we've seen, there has always been a rigorous quality control process in place to ensure Grade I installation. Each job is checked regularly, before drywall is hung, to ensure that installation is performed correctly. Communication with the insulation contractor, the QA Leader, and the HERS Rater is also routine and expected so that when there are concerns, they are addressed, and jobs are revisited immediately.
As a builder, whether you're seeking a high-performance certification for your home or looking to meet code, if you don't clearly articulate the goal of getting Grade I to the contractor, the odds of getting that are slim. Also, as outlined in our Guide to Getting Grade I Installation, the statement of work should be explicit and outline how the quality of the installation impacts payment for the job.
Quality always matters, whether certification is sought or not. Getting exactly what you pay for is often as simple as detailing your expectations and having a process in place to ensure that they are met.