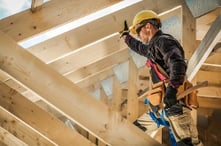 According to an Associated Builders and Contractors report, the U.S. construction industry needs to hire more than 430,000 more workers this year than in 2020 to keep pace with construction demand.[1] While construction has had a longstanding skilled labor shortage since the great recession in 2008, theories abound on why attracting skilled labor is still such a tough challenge. This week, we look at three takes on the labor issue, and its impact as the industry looks to attract workers in the future.
Labor Shortage or Wage Shortage?
The prevailing belief among many business owners is that stimulus money and extended unemployment benefits have kept workers, including construction workers, out of the labor pool. However, many economic analysts disagree. In an article published last month, Heidi Schierholz, senior economist and Director of Policy at the Economic Policy Institute, points out that cyclical labor shortages are endemic to many industries, including construction. Still, a more likely reason that some industries continue to face labor shortages is that employers simply don't want to raise wages enough to attract workers.
Anecdotally, we've heard from several insulation contracting companies that they have raised wages and offered bonuses and other perks (like healthcare) to attract workers. Those who have done so say that these benefits have made a difference in worker recruitment and retention. With increasing competition from other industries looking to hire workers, construction wages must be competitive to attract new talent.
Casting a Wider Net
Increasingly, staffing companies are casting a wider net to attract new workers and solve the workforce issue. One such company, Maineworks, links people in recovery from substance abuse or re-entry from jail or prison to construction companies that need workers. Operating since 2014, the company bills itself as an innovative employment company with a compassionate mission to support industrial construction in Maine and a means to give workers an opportunity to make a better life for themselves and their families.
The move to cast a wider net in attracting talent is spreading. This week, Amazon announced that it would stop testing job seekers for marijuana as states legalize cannabis. However, the company will still test workers for illegal drugs and for "impairment on the job."
Finding ways to broaden the labor pool is one way to increase the number of workers eligible for employment in the construction industry.
Foreign Workers Are Needed
As U.S. businesses grapple with the shortage of labor, the U.S. Chamber of Commerce is urging Washington to allow more foreign workers to enter the country, noting that companies are having to turn down work because they cannot find enough employers. Additionally, economists have long said that the aging U.S. population means that the nation will have to rely on an influx of foreign workers to meet employment needs.
The pandemic completely upended temporary worker visas despite the need for them. Citing increased labor demands, the Department of Homeland Security in April announced that it would boost the number of H-2 temporary worker visas issued to non-agricultural workers by 22,000.
With more than 8 million job openings left unfilled in March, the Chamber of Commerce said that pressure is only going to continue to build to solve the workforce issues.
Longer-term immigration reform to address the worker shortage may be tough to reach, but it is made more urgent by the need for workers in America.
Finding Ways to Draw Workers
As the U.S. economy continues to recover from the impacts of COVID, filling vacancies in construction is a top priority. Competitive wages, attractive incentives, innovative approaches to finding talent, and an increase in foreign workers may help alleviate some of the issues with attracting workers to the construction industry.
[1] https://www.abc.org/News-Media/News-Releases/entryid/18636/abc-the-construction-industry-needs-to-hire-an-additional-430-000-craft-professionals-in-2021