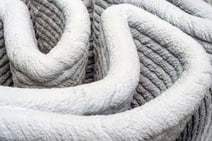 The U.S. housing market saw a record low supply of homes for sale at 1.16 million in April, down 25 percent from the prior year. With demand driven by the lowest fixed mortgage rates in 50 years, a current housing shortage at 4 million homes nationwide,[1] and higher costs for building materials, land, and labor, any home building option that promises to speed construction while reducing costs is attractive. Enter 3D printed homes – an efficient, cost-effective, and resilient option for new home construction.
Icon's Big Week
This week, Icon, an Austin, TX-based company specializing in advanced construction technologies using 3D printing robotics, software, and advanced materials, unveiled its next-generation Volcan construction system and debuted its new Exploration Series. The company's first home in the series, "House Zero," is designed by award-winning firm Lake Flato Architects. The home is a 2,000 square foot dwelling with three bedrooms and 2.5 baths with a 350 square foot accessory dwelling with one bedroom and one bath. It's the first of its kind in Austin, but it won't be the last: a development, 17th Street Residences, is currently under construction. The company, headed by CEO and Co-Founder Jason Ballard, was featured this past Sunday on CBS's Sunday Morning program.
Benefits of 3D Printed Homes
Icon says they can construct a 3D printed home in half the time for about half the price. Building a house with a 9,500-pound robot controlled with a mobile app may be wildly unimaginable for some, but that hasn't stopped the technology from getting new attention. 3D printed homes are being examined for their ability to solve some of the toughest problems with housing today, including a shortage of homes, length of production, and resilience. ICON claims they can complete a 3D printed home in less than a week with fewer tradespeople. Hence, the technology also addresses some of the biggest challenges for builders, including lumber and labor costs.
With all the benefits of 3D printing, it's hard to see the drawbacks. However, architects say there are three significant cons of 3D printed construction, according to Architect Outsourcing.
Building Codes – There are no clear model building codes that govern 3D printed residential or commercial buildings. Designers and code officials are left with traditional code requirements to apply to non-traditional construction. Those standards must be clarified for electrical, plumbing, structural, and public safety codes.
Material Types – Currently, materials used in 3D printed buildings are limited to concrete and plastics. Any building that requires wood or steel components would not be able to use a 3D printer for that portion of the building.
Engineering Compatibility – Few architects and engineers have embraced 3D printed buildings, but new projects in Austin and elsewhere may change that.
Will Buyers and Builders Embrace 3D Homes?
Admittedly, 3D printed homes provide a fascinating example of how technology can solve some of our biggest challenges regarding housing supply, affordability, resiliency, and speed of construction. But it remains to be seen if consumers will embrace the technology or just marvel at the cool factor. In addition, scant details on the specifics (like what type of insulation they are using or how air sealing is being conducted) leave us wondering about the energy performance of the homes. Moreover, the home building industry is traditionally slow to embrace new technologies. But perhaps this is the right time and the right technology to change that.
Insulation Institute has reached out to Icon for more details and will provide an update if we get them. In the meantime, we'd love to know what you think. Will 3D homes fly or fizzle?
[1] https://www.wsj.com/articles/u-s-housing-market-is-nearly-4-million-homes-short-of-buyer-demand-11618484400