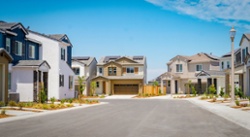 One of the dirty little secrets of modern home building is that some high-performance building programs allow home sampling or assigning all homes within a development the same performance characteristics or scoring as a reference home. The implementation of sampling was always challenging to monitor and assess. The implied promise for each home built to a specific high-performance certification target (i.e., HERS-rated, ENERGY STAR, Earth Craft, and others) is that it was inspected individually by a trained and certified energy performance professional. Of course, all homes, not just those built to the requirements of a home performance certification program, should be inspected. Still, these inspections are crucial to ensure quality and performance for buyers paying a performance premium.
Energy Star to Sunset Sampling
ENERGY STAR has proposed sunset sampling for all new construction homes permitted on or after January 1, 2025. This is, of course, a good idea. Sampling high-performance homes instead of verifying each one can misrepresent energy performance and other requirements of the certification program. But sampling also can be a bad idea for the following reasons:
Variability in construction – There can be significant variations in construction quality and energy performance among homes, even within the same development or builder. There is no guarantee that the same subcontractors will work on all sampled homes. For example, the variability between two different framing crews can be significant. A builder can have their A-Team's home sampled, knowing that the other subcontractors are not of the same quality.
Missed issues – Sampling may fail to detect problems in individual homes, such as missing insulation, defects, air leakage, or HVAC system inefficiencies, that can lead to suboptimal energy performance and homeowner issues. (We wrote about one homeowner's missing insulation in this blog post in 2021.)
Breaking Consumer Trust – Certification programs tell consumers they can have confidence that their homes meet specific energy performance standards. Sampling can erode this trust, as consumers assume that all homes are verified when only a subset of homes are.
Market Competition – Sampling may give some builders an unfair advantage if they can avoid the cost and effort of complying with energy efficiency standards. This could create an uneven playing field in the housing market.
Regulatory Compliance – In regions where ENERGY STAR or other energy efficiency certifications are linked to building codes or regulations, sampling may undermine compliance and hinder the overall energy-saving goals of those programs.
Performance Gaps – Even if a certification program is generally well-regarded, sampling can result in performance gaps where some homes meet the required standards while others do not. This can impact energy savings on a broader scale and hinder sustainability goals.
Accountability and Transparency – Sampling reduces accountability and transparency in construction. When all homes are not individually verified, it can be challenging to identify and address the root cause of energy performance issues.
Quality Control – As a builder, ultimately, you get from your trades what you inspect. Continuous monitoring and verification can help improve the quality of your construction and ensure that you meet the high-performance certification target you advertise.
Incidentally, builders can qualify for a $2,500 credit, 45L, for constructing homes to ENERGY STAR certification requirements following the passage of the Inflation Reduction Act. While verifying each home meets the program requirements is additional work, it's reasonable to assume that those builders who build to ENERGY STAR requirements are committed to the process, including verification of each home.
The 2024 IECC will specifically allow sampling
The energy code never intended to allow the sampling of single-family homes. When the energy code is silent on sampling, it can be mistakenly allowed by a jurisdiction. The 2012 IECC is silent on sampling. The 2015 IECC specifically prohibits batch sampling of buildings for compliance. The 2018 IECC provides batch sampling of stacked multi-family buildings only. The 2021 IECC is silent on sampling. Unfortunately, sampling has made a comeback in the 2024 IECC, which is set to be published in the spring of 2024. Sampling was explicitly brought into the 2024 IECC in a couple of ways: 1) buildings with 20 or more dwelling units can use the average dwelling unit Energy Rating Index (ERI), and 2) buildings with eight or more dwelling units have a specific sampling protocol.
Pressure on Other Certification Programs
With ENERGY STAR's decision to sunset sampling, there will be increasing pressure on other high-performance building certification programs that continue allowing it to end the practice. Could we see a groundswell of programs ending sampling? Only time will tell.
Meanwhile, ENERGY STAR solicited feedback from stakeholders on the proposed sunset of sampling. It makes for an interesting read.
What are your thoughts about a potential end of sampling?