You Still Get What You Inspect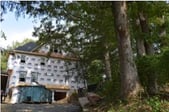 We don't get out to jobsites often. Much of our time here at Insulation Institute is spent developing resources for building industry professionals on how to safely use and properly install fiberglass and mineral wool insulation products, and that keeps us in the office most days. But occasionally, we're invited to a job site to observe the insulation installation. We relish these opportunities.
Our most recent field trip took us to a 4,500 square foot spec home currently under construction in Northern Virginia. Here's what we observed.
Good Guidance Leads to Great Execution
The construction superintendent was on site along with the insulation installation crew, which worked at a steady pace to air seal and insulate the massive home with kraft-faced and unfaced batts. Roughly one-third of the insulation had been installed when we arrived mid-morning and although the super rarely communicated with the crew, he had provided guidance early regarding air sealing and inspected several areas after the crew had completed installing the insulation.
We observed that the batts filled the cavities with no gaps or compression. This detailed work is required for RESNET Grade I installation.
Having a super on site as the trades complete their work can help reinforce requirements and lead to better quality work, as we've previously detailed.
Cutting and Fitting Tricky Spots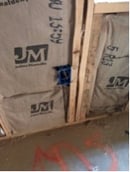 Cutting and fitting insulation around electrical wires and boxes can be one of the trickier tasks during an installation. Electrical boxes can be a source of air leakage, so air sealing and insulating behind and around the boxes is important. The installers were thorough in sealing and cutting the batts to fit snugly around the boxes and wiring.
A Product for Every Application
A 4,500 square foot house that includes an attic, a garage, and a fireplace requires a lot of air sealing and insulation. We noted that critical air leakage pathways, including the top and bottom band joists and bathtub areas, had been properly air sealed and insulated. Kraft-faced and unfaced insulation were used appropriately in their installed areas. Mineral wool insulation was on site to be installed later around the fireplace. Mineral wool is a good choice for this application because combustible materials (like the kraft facing of batt insulation) can't be in contact with this area.
Why Inspect?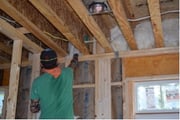 Whether it's the building superintendent or HERS rater, having a quality assurance point person or inspector on site during air sealing and insulation installation has often be cited as the key to getting the best quality work in high-performance home buiding and the time to do that inspection is before the gypsum board goes up. It's much easier to fix a problem before the walls are closed.
Where to Go for Help
If you are looking for help to get to Grade I, the Insulation Institute has a number of detailed resources available for builders and contractors on how to properly air seal key areas in a new home and install fiberglass and mineral wool insulation:
Look for additional air sealing and Grade I installation resources from Insulation Institute in the coming year.