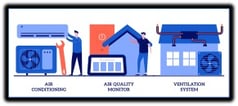 Did you know that 40 percent of U.S. homes have at least one health or safety hazard? In fact, 35 million U.S. homes place their occupants at risk for health hazards, according to the National Center for Healthy Housing.[1] These homes have a range of problems, from mold and air leaks to toxic chemicals. Some states fare better than others. As consumer concern about healthy homes increases, access to data about the health of U.S. housing stock by state is useful to inform the marketplace and position new construction homes as a healthier option than many existing homes.
National Center for Healthy Housing Data
The National Center for Healthy Housing (NCHH) has published research findings assessing healthy housing for each U.S. state. Among the interesting facts available for each state are:
Percentage of homes built before 1978 when lead paint was banned
Percentage of asthma patients that live within the state
Percentage of children who live in households with high housing costs
Percentage of homes with high radon levels
Each state fact sheet covers serious issues with the housing stock and urges full federal funding for critical programs and services to improve the health conditions associated with the aging housing conditions.
Why it Matters
New construction builders can leverage healthy aspects of their construction practices, home features, and products to appeal to prospective buyers concerned about healthy. Air quality is the top worry of homeowners and buyers are increasingly demanding homes that won't make them sick.[2] Modern building codes, airtight home construction with mechanical ventilation, and improved indoor air quality through the elimination of banned products and substances greatly increase the chance of home buyers getting healthier homes.
Equally important, NCHH's data makes clear that policymakers must prioritize the aging U.S. housing stock because of the widely known and significant health risks associated with living in an unsafe, unhealthy home.
[1] https://nchh.org/resource/fact-sheet_healthy-housing-in-the-united-states/
[2] https://www.jchs.harvard.edu/blog/more-consumers-are-interested-in-healthy-homes