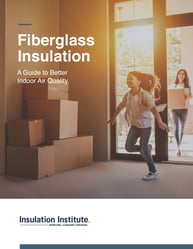 Homebuyers are increasingly concerned about the safety of the products that are used in their homes. When it comes to insulation, there's a lot of information out there, but it can be hard to separate fact from fiction. Insulation Institute has just released a new guide, Fiberglass Insulation A Guide to Better Indoor Air Quality, which details the significant benefits of using fiberglass insulation, whether you're a builder, installer, or homeowner.
Indoor air quality is a significant concern, given that concentrations of some pollutants can be two to five times higher indoors than they are outside. Additionally, Americans spend on average 90 percent of their time indoors. Having trusted information about the safety of fiberglass insulation is essential. This guide provides detailed information about the lengthy history of testing and product improvements that make fiberglass insulation one of "the best insulation materials from a health perspective."
Download the guide here.