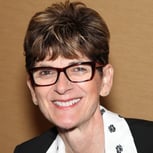 Peggy Smedley hosts the No.1 digital transformation and internet of things podcast in the nation. She has spent the better part of the past two decades teaching companies about the disruptive and innovative capabilities of technology and how to leverage those technologies for a better world. A passionate advocate for sustainability, Smedley believes that smart home technology can play a role in helping home builders affect national sustainability goals.
It All Starts at Home
Smedley argued that to meet carbon neutrality goals by 2050, the United States must start at home. "Residential homes are responsible for up to 34 percent of carbon dioxide emissions, so we have to look at how we can combat this in home building first."
Citing a recent Schneider Electric Report, Smedley said technology is leading to reaching those sustainability goals. Still, there are a lot of misconceptions about sustainability that must be overcome.
"Homeowners are largely unaware that 62 percent of electricity comes from burning fossil fuels, and 13 percent of all emissions are directly tied to commercial and residential usages. Consumers believe that industrial facilities and transportation are responsible for carbon emissions, and we need to change that."
Smedley believes homeowners, builders, property owners, developers, architects, and contractors can be essential players in decarbonizing the built environment with technology. "Solutions that exist today will allow us to make our homes not only smart but sustainable, as well," she noted.
Four Actions for Sustainable Homes
According to Smedley, delivering more sustainable homes will require a major focus to:
Empower Homeowners to Understand Their Energy Use - "Only 48 percent of consumers in the U.S. believe it is their personal duty to reduce energy use at home, and less than one in four feels guilty about the amount of energy they use, Smedley said. Active energy management is essential to helping homeowners be more energy efficient. As I always say, data, data, data."
Combine Smart and Durable – Current consumer trends in energy usage at home reveal growing concerns, which can be improved with smart technology, Smedley says. The first involves electrical faults. "Home electrical problems cause and estimated 67,800 home fires and $868 million in property losses. Much of this can be avoided by making homes more resilient," Smedley noted. "The second concern relates to sustainability and the impact on carbon emissions. The Schneider Electric study found that 67 percent of consumers place safety and sustainability at the top of the list of smart home benefits, followed by reduced energy consumption and costs, at 60 percent." Builders must find ways to deliver resiliency and smart technology simultaneously.
Target Energy Efficiency – "Demand, not supply, drives energy transitions," Smedley said. "Our lives contain more gadgets and appliances than ever. Unfortunately, with these demands, energy costs have been trending upward. To help combat that trend, homebuilders first build for energy efficiency and then include energy-management solutions in their new homes. This is something Boomers are looking for, with 75 percent of them more likely to focus on achieving cost savings in their consideration for smart-home technology."
Add A Personal Touch – Recent trends indicate that architects, homebuilders, and contractors are taking notice of consumer interest in smart home technology. "Thirty-six percent of consumers believe smart-home products should be standard in newly built homes," Smedley said. To appeal to those interested in smart-home technology, builders should make it personal.
Some smart technology examples include systems that tell homeowners when to do their laundry or run their dishwasher based on their utility's time-of-use electricity rates. These systems can also help them plan solar energy use based on upcoming weather forecasts or adjust the lighting in different rooms at different times of the day. "Now is the time to put this technology into homes."
A Hopeful Sign -- The Rise of Net Zero Homes
Smedley cited the rise of net zero homes as a hopeful sign that more people are embracing carbon-neutral homes – and not just the typical sustainability enthusiasts.
"Research suggests net zero housing stock will increase by 28 percent between 2019 and 2028 – from just 57,800 homes to 534,500. We are soon going to move out of the early adopter phase with these homes, and a number of tools and technologies can help, including solar, energy-efficient appliances, geothermal pumps, and smart thermostats."
"These are all powerful tools to target sustainability goals, but we must make sure that there's equity so that these homes are still affordable to the average person."