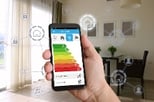 While some states have aggressive stretch energy code requirements, other states lag in their efforts. A new report from WalletHub, a personal finance company, analyzes data from various government agencies in 48 states and ranks each in their building, auto, and transportation efficiency. The report finds that Utah is the most energy-efficient state while South Carolina is the least. So how does your state rank?
How Efficiency Was Determined
The report evaluated each state for home and auto efficiency, calculating the ratio by using total residential energy consumption to annual degree days. Auto efficiency was evaluated based on the miles driven by gasoline consumed and transportation efficiency on annual vehicle miles driven per capita. The home and auto efficiency of each state was weighted and ranked on a 100-point scale, with 100 representing optimal efficiency.
Best and Worst Rankings
Utah topped the list of the most energy-efficient states overall, scoring a total of 83.91 points out of 100. It ranked the highest in terms of home energy efficiency. Conversely, South Carolina ranked worst overall, with 21.49 points, and fared the worst in-home energy efficiency. Massachusetts ranked ninth in-home energy efficiency but best for auto efficiency. Wyoming was the worst for auto efficiency. (It's worth noting that another report by ACEEE ranks California as the most energy-efficient state, so different methodologies will produce different results).
Climbing the Efficiency Ladder
WalletHub's analysis detailed options for states in improving their home energy efficiency. "The U.S. Department of Energy estimates that adopting energy-efficient features in the home could reduce utility costs by as much as 25 percent," the report notes. The report also called on states and governments to continue to adopt more energy-efficient measures to improve overall energy usage, noting that tax credits that incentivize consumers to make energy efficiency upgrades are a particularly effective tool in boosting efficiency.
The authors also note that governments don't have to rely on tax policy alone to boost energy efficiency. According to Valerie Thomas of the Georgia Institute of Technology, "Energy efficiency standards for buildings should include building codes and appliance standards, so no one is stuck with an energy hog building or appliance."
Notably, the report concludes that increasing energy efficiency will decrease long-term costs for everyone, including utilities, individuals, and governments. Increased efficiency will also provide energy savings and boost building resiliency, the analysis concludes.
Read the full report here.