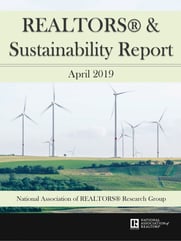 Green or sustainable construction is estimated to make up one-third of single-family and multifamily home construction, and that number will likely increase to roughly 50 percent by 2022.[1] Such energy-efficient homes are in high demand among buyers because they are less costly to own, more comfortable, and generally command a higher resale value than standard code-built homes.[2] Real estate professionals who are knowledgeable about sustainable or energy-efficient features in homes can be a source of education and information for potential buyers, but their knowledge of such features and their impact varies. A new report from the National Association of Realtors® looks at realtors' knowledge of sustainability in the industry and provides insights into the extent to which green features appeal to buyers.
Top-line Findings
According to the Sustainability Report, 41 percent of real estate professionals report that MLS services have green data fields, which they use to promote a home's green features. Further, nearly 70 percent find the information valuable to them. Eighty-three percent of realtors also noted that homes with solar panels were available in their market, and 36 percent said properties with solar panels increased the perceived value of the home. Interestingly, just 16 percent of realtors reported that a high-performance home increased the dollar value offered compared to similar homes (53 percent weren't sure). Also, nearly 40 percent said that they had been involved in the sale of a property that had green features, either on the buyer's or seller's side.
Why It Matters for Builders
Home buyers prioritize energy-efficient or green features in homes (realtors say that 51 percent of consumers are interested in sustainability) and research has shown these homes typically command a higher price at resale. Real estate professionals who are well educated about such features and aware of the benefits they offer to buyers can be valuable partners in promoting the competitive advantages of sustainable construction. The more knowledgeable they are, the better for builders who construct high-performance homes.
[1] https://www.construction.com/news/study-finds-green-home-building-continues-gain-traction-sept-2017
[2] http://www.mwalliance.org/blog/new-research-shows-myriad-benefits-energy-efficient-homes