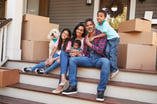 RESNET announced this week that its analysis of the top 200 U.S. home builders in 2019 shows more builders are constructing HERS homes, and of all homes built by the top 200 builders, 39 percent received a HERS rating last year. Other impressive numbers from the analysis show:
145 of the top 200 builders chose to have their homes HERS rated
85 of the top 100 builders also decided to build HERS-rated homes
18 publicly traded building companies on the top 200 list were responsible for more than 96,000 HERS ratings in 2019, an increase of 21,000 homes in just one year
In 2019, RESNET recorded nearly 242,000 HERS ratings, compared with 236,116 in 2018.
HERS Home Buyer Data
RESNET revealed that Freddie Mac used data provided by RESNET on HERS-rated homes from 2013 to 2017 to select a random sampling of 70,000 homes. Working with a major credit bureau, Freddie Mac obtained data on each of the rated homes plus five comparable unrated homes for each, for a total of about 450,000 properties.
Freddie Mac evaluated homeowner income of HERS-rated home buyers and found that when income was converted to Area Median Income (AMI) at the county level, about 45 percent of HERS rated home buyers made more than 120 percent of AMI. Interestingly, Generation X (those between the ages of 36-54) were most likely to purchase a HERS-rated home. This generation of buyers purchased a little more than half of all HERS-rated homes in the sample, while Millennials (ages 16-35) purchased nearly one-third and seniors (55+) purchased about one-fifth.
HERS-Rated Home Values
Freddie Mac also studied the sales value of HERS-rated homes compared to non-rated comparable homes. The analysis concluded that HERS-rated homes sold for 2.7 percent more on average than comparable unrated homes. Also, data show that homes with lower HERS index scores are sold for 3 to 5 percent more than homes with higher HERS index scores.
According to Freddie Mac's analysis, homes with lower HERS index scores also had better mortgage profiles in general, with owners having higher average FICO scores and lower loan-to- value ratios at origination. Further, owners of these homes have higher owner incomes and higher neighborhood incomes.
This is good news for HERS home builders and buyers, particularly since the data show that HERS-rated homes command a sales price premium of 2.7 percent on average, demonstrating that homes with greater energy efficiency sell for more.
Conclusion
Not only has the number of builders constructing HERS homes increased in recent years, but the absolute number of HERS-rated homes continues to climb. Moreover, data show that buyers of HERS-rated homes typically command a higher price at resale (+2.7 percent on average). This study also demonstrates that lower scoring HERS homes see an even larger increase in price premium (3 to 5 percent more).
To read RESNET's full release on this analysis, click here.