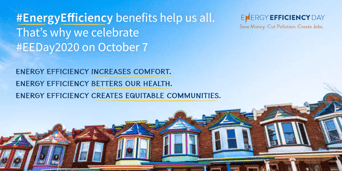 Today marks the 5th Annual Energy Efficiency Day (#EEDay2020), established by advocate groups around the United States to highlight the benefits of energy efficiency (for a full list, see here). Hundreds of companies, organizations, utilities, and governments representing tens of millions of people will take part in #EEDay2020 by encouraging Americans to support energy efficiency efforts, which save money, cut pollution, create jobs, and much more. Among the most important activities to undertake to increase energy efficiency is to insulate. Here are three facts about insulation and energy efficiency:
Better Insulation Means Lower Costs: Insulation saves homeowners money on energy bills and reduces power plant CO2 emissions to lower carbon footprints. The benefits aren't new, but they continue to become more important as energy costs increase. It's estimated that residential electricity costs will increase by 2.8 percent between 2020 and 2021, according to Statistica.com, and as the pandemic continues, residential demand for electricity will increase. In fact, the average homeowner spends $2,060 per year on household energy costs, according to EnergyStar.gov. And while the median expenditure by income is roughly 3.5 percent, low-income households experience a median energy burden of 7.2 percent. Optimizing home energy efficiency through proper insulation can help reduce those costs.
Re-insulating Existing Homes is Especially Important: Re-insulating existing homes is particularly important since 9 out of 10 homes are under-insulated, according to research conducted by Boston University. The annual kilowatt savings potential nationally is enormous. At the state level, Rhode Island, Connecticut, Colorado, Vermont, and New Hampshire have the greatest potential energy savings potential from re-insulating existing homes (see infographic).
Commercial Building Savings Potential: In commercial buildings, insulation installed in ceilings, walls, and floors produces energy savings of 13 to 35 percent versus an uninsulated building, depending on the size of the building.
In celebration of #EEDay2020, 17 cities, counties, states, universities, and the U.S. Senate have issued official proclamations or resolutions marking the event and providing tips to reduce energy use, decrease costs, and improve building comfort. To find out more about #EEDay2020, visit the website. You can also get in on the fun by sharing energy efficiency memes and tips using the hashtag #EEDay2020.