How Cool! Camp Teaches Kids Construction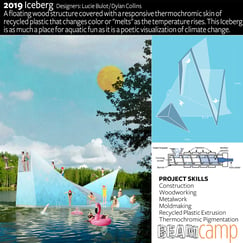 Introducing young people to the construction trades can be a challenge, and many high school students have never thought about a career in the industry. Enter Beam Camp: a novel summer camp that introduces kids to building things with their hands. It's a simple concept that introduces kids to engineering, construction, and teamwork – and it could plant the seeds for future careers in construction.
Train, Design, Build
Founded in 2004 by Brooklyn-based Beam Center Founder Brian Cohen, Beam Camp provides children with exciting and creative experiences in problem-solving through working with their hands, actively collaborating with other kids. The center brings together youths, artists, engineers, and educators to produce "ambitious collaborative projects that support youth to take bold steps towards meaningful futures and foster conditions of educational equality."
Each year at Beam Camp, participants are required to complete a construction project during the two-week camp program. This year's project is "Iceberg," a floating wood structure with responsive thermochromic skin of recycled plastic that changes color or "melts" as the temperature rises. It's equal parts geeky science project and uber cool float that will require some sophisticated stuff (see i). llustration). If it sounds impressive and challenging from a construction standpoint, it is. But Beam Camp's staff of teachers, builders, and mentors are there to work alongside campers to provide a safe experience. Iceberg is just one of several extraordinary projects campers have completed since the first session.
School's out (or nearly out) for the summer for most kids until the fall. If the idea of them spending way too much time working the controls of a video game is anything but appealing to you, think how enriching and instructional a place like Beam Camp could be for young people and how extraordinarily lucky a kid would be to have such an amazing experience and create such inspirational designs.
To learn more about Beam Camp, visit their website here.