COVID-19 Vaccination Plans in Every State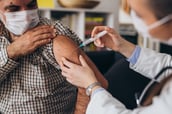 According to Construction Dive, a study of 730,000 COVID-19 tests found that construction workers had the highest positivity rate for asymptomatic cases of any occupation. Therefore, to reduce widespread illness and keep pace with the high demand for residential construction, it's essential to get workers vaccinated. Multistate, a full-service state and local government relations company, has published a comprehensive dashboard of the COVID-19 vaccine distribution plan for all 50 states.
The dashboard provides information on populations currently eligible for the vaccination in each state and future eligible populations. Many states prioritize essential workers (including construction workers) in Phase 1 of their vaccination plans. However, specific tiers within Phase 1 for those workers vary by state. The tool is a valuable resource to construction and manufacturing companies with operations that span several states.