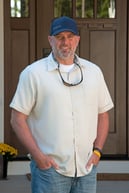 Builder Ryan McCoon, LEED APH of Endura Performance Homes, has more than 30 years' experience in the residential construction industry and has built 60 homes ranging in price from $500 - $1.5M in Traverse City, MI area. As a high-end custom builder, Ryan has the weight of his client's expectations at the forefront of his mind as he completes their homes. He takes care to ensure that the projects are attractive, healthy, and have lower operating costs and increased durability for many years to come.
Building Beyond Code
As a Michigan builder, Endura is subject to the 2015 Michigan Residential Energy Code, which mandates minimum building envelope performance requirements. Endura could build to those specifications but chooses to construct a home that outperforms the typical code-build home, exceeding minimum insulation levels and air tightness targets. Ryan says the company achieves this through understanding that improved performance starts in the design phase. Endura's offers its buyers the option to have their homes built either as LEED-certified or to the National Green Building Standard.
"We're building what will likely be our client's last home, and we want to deliver a product that will exceed their expectations. That requires that we focus on design and durability at the outset, so our team takes an integrated design approach," Ryan said. Each project includes a team of professionals –­ designer/architect, energy consultant, mechanical contractor, plumbing contractor, electrical contractor, insulation contractor, and landscaper. Through scheduled meetings before, during, and after construction, the team ensures each project is cost-effective, superior in quality and performance, and meets the owners' needs.
"Though Michigan requires 4ACH 50 in terms of blower door testing, our homes typically test at 1.5 ACH or less," Ryan noted. "My current project will finish out at about 0.39, which exceeds even the German Passive Haus minimum of 0.60 ACH 50. Building to this air tightness level can be done cost-effectively. It often comes down to training the crews to understand how air moves through an assembly. We also explain what the various insulation and air sealing products are, and how to utilize those products best to maximize their potential and reduce thermal bridging."
According to Ryan, builders should better utilize product manufacturers' free training to understand how products work and how they should be used. His company has undergone training provided by a number of manufacturers, including Huber Zip systems and Accuframe energy seal.
"Manufacturers want to show you the right way to use the product. Ten years ago, there was a considerable difference. Now, code requires that builders meet higher basic performance levels, which takes commitment. Still, if you want to go beyond that, you've got to focus on nailing those techniques that reduce thermal bridging, like air sealing and better insulation."
Ryan typically uses various insulation products, including blown-in fiberglass insulation, rigid insulation and spray foam in 2 x 6 wall construction for the homes he builds. He notes that any type of insulation product can work provided a builder's team understands how to apply the right products for the application properly.
"It all starts with framing. The products that are applied to the mud sill, floor sheathing and wall framing can have a big impact on performance, and crews have to be trained to use those products properly," he said.
Continuous training is part of being a responsible, energy-efficient builder, Ryan noted. "What we've seen in recent years is that code requirements are increasing. Most production builders view meeting code requirements as just an added cost, but I look at exceeding those requirements as a reward – not to me but for the owners who will ultimately occupy that home."
"In the U.S., we build homes that are largely disposable, with an average life span of 60-80 years," Ryan said. "It may take slightly more money at the onset to build a home for durability, but you'll ultimately end up with a home that may last centuries, as homes in Europe do."
A Smarter Consumer
Better educated consumers are coming to the builders with some knowledge of energy-efficient construction benefits, but that doesn't mean that they always get the facts right. "Some think that solar means you have an energy-efficient house, and we have to explain that just because a house has solar panels doesn't mean that the house is more energy-efficient," he noted. "The building envelope is much more important in terms of energy performance. Builders can use their knowledge in energy efficiency to educate owners and ensure they understand home energy performance."
Ryan notes that real estate pros are also becoming more educated on the value of energy-efficient homes and MLS listings for his homes include energy performance information. "It's a great selling tool, and prospective buyers are paying attention, which is important in this strong market for homes."
The Year Ahead
Ryan says that he expects a very solid year in terms of demand for custom homes. Still, he continues to struggle with the same challenges that other builders cite -- labor and, more recently, materials delivery.
"Finding skilled trades is a challenge. High schools don't teach kids about skilled trades as a career option, and that's having an impact on their choices." Ryan also mentioned that COVID-related supply challenges impact the cost and availability of products, but he thinks housing will remain a bright spot in the economy this year.
"Currently, interest rates are ridiculously low, so the demand for homes is high, and I don't expect a major slow down. As a company, we continue to focus on distinguishing our homes from the typical home to stand out among our competitors. By focusing on what the customer will ultimately get – a better built, more durable, and more cost-effective home, we expect that our value proposition will resonate with prospective buyers."