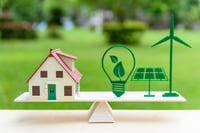 A new report released yesterday by E2 (Environmental Entrepreneurs), the American Council on Renewable Energy (ACORE), E4TheFuture, and BW Research Partnership shows that nearly 600,000 clean energy workers have lost their jobs since the beginning of the COVID-19 pandemic. This is nearly 18 percent of the total industry workforce, according to the group's press release.
Energy Efficiency Hardest Hit
Before COVID-19 reached America, the clean energy sector had been one of the U.S. economy's biggest and fastest-growing sectors, with employment up more than 20 percent since 2015 at a total of 3.4 million jobs at the end of 2019. In fact, clean energy was by far the biggest employer of workers in all energy occupations, employing nearly three times as many people as the fossil fuel industry.
Analysis of unemployment data shows that the energy efficiency sector was particularly hard hit by pandemic layoffs and accounted for nearly 70 percent of all clean energy job losses for the month of April, with more than 310,000 energy efficiency workers filing for unemployment. Added to the prior month's unemployment claims in the sector, 413,486 energy efficiency jobs have been lost.
In addition, nearly 13 percent of renewable energy jobs were lost in two months, bringing the cumulative total job loss for April and May to 95,574. The clean vehicles sector rounds out the top three in terms of job loss, shedding 46,501 jobs through the months of April and May. Other hard-hit sectors include grid storage (12,202 jobs) and clean fuels (12,548 jobs).
State Unemployment Claims Vary
While clean energy job losses vary by state, California has fared far worse than any state in the nation, with jobless claims in the sector totaling 105,443. States rounding out the top five in terms of job losses include Texas (31,192), Michigan (30,150), Florida (29,878), and Georgia (27,161).
Three states, Kentucky, Hawaii, and Louisiana saw job losses that exceeded 25 percent of their clean energy workforce. However, no state was harder hit in terms of percentage of job losses than Georgia, which lost 31 percent of its clean energy workforce. That number more than doubled the national average of 15 percent.
Local economies also suffered a devastating impact in terms of job loss, with five counties alone comprising more than 5,000 clean energy jobs lost in April alone. Those counties were Los Angeles County, California; King County, Washington; Harris County, Texas; Sand Diego County, California, and Cook County, Illinois.
To see the full breakdown of the clean energy jobs lost in each state, click here.