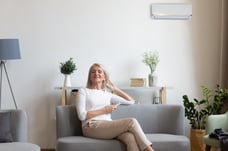 COVID-19 has more Americans staying at home to reduce the rate of disease spread, and that means spending more time indoors. While few people associate indoor air with pollution, a study from Washington State University last year reported that indoor air could be much more polluted than outdoor air. This pollution is due in part to emissions that come furniture, household cleaning products, cooking, and notably, building materials.
In this week's look at "How Construction Will Change," Insulation Institute examines how experts in home building are trending towards specifying healthier building materials.
Experts Weigh In
Forbes Magazine recently spoke with eight thought leaders for their perspective on how homebuilding will change. Among those experts is Tim Costello, CEO of Builder's Digital Experience, a leading provider of digital marketing and content solutions for the home building industry. Costello predicts a shift to healthier spaces and building materials for the industry. He noted that options that could be deployed faster include changes in architecture to include UV air treatment, indoor air quality monitoring, viral resistant surfaces, and health monitoring systems for building occupants.
Focus on Shifting to Healthier Materials
Because indoor air quality can significantly affect respiratory health, it's more important than ever to consider specifying healthier building materials in new home construction, weatherization, and energy efficiency programs supported by state and the federal government.
The Natural Resources Defense Council (NRDC) reports that the CARES Act directs funds to the Low-Income Home Energy Assistance Program (LIHEAP), which provides assistance to more than 6 million low-income families in support of home weatherization. NRDC called on Congress and the administration to mandate that only healthier building materials be used in these weatherization programs. Further, NRDC cites a 2019 Energy Efficiency For All report containing guidance on specifying healthier upgrade materials. That report recommends dense-packed loose-fill fiberglass and fiberglass batts based on the health profile of the ingredients used in the manufacturing of the product.
Research to Shape Product Selection
As builders, architects, and specifiers throughout the country consider healthier building materials in promoting good indoor air quality, they will increasingly rely upon research such as the EFFA study to help inform product selection. This informed approach to building can only benefit future homeowners by improving health outcomes and indoor air quality.