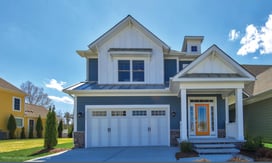 DOE's Housing Innovation Awards recognize the best in home building innovation on the path toward Net Zero. Among this year's winners in the production home category is Insight Homes, a Delaware builder and previous innovation award winner. Insight's ability to evolve its construction practices to take advantage of the latest in building science developments and energy-efficient construction techniques are among the characteristics that set this exceptional builder apart from the competition.
The 2019 Award-Winning Home
Insight's 2019 award-winner is s 2,821 3-bedroom, 3.5-bathroom home built in mixed humid climate zone 4A. The home was completed in April 2019 and showcases impressive performance numbers, including a HERS 53 rating, and 2.7ACH 50 air-leakage score. Although the home does not include solar, it is solar-ready, allowing the owners the option to add solar in the future to offset energy costs, which were modeled at $2,450 annually.
While there are myriad approaches to building a high-efficiency home, one commonality you'll find with each high-performance builder is a demonstrated understanding of basic building science and an exceptional focus on quality envelope construction. For Insight Homes, this means using a panelized wall system constructed indoors allowing the lumber to be precisely measured, cut, and nailed, all while being protected from the elements. The walls are 2 x 6, 24" inch, on-center walls using advanced framing. This type of framing allows for more insulation in the wall cavity and includes insulated headers, 2 and 3 stud corners, and R-23 netted blown fiberglass insulation. The vented attic of this award-winning home also features R-49 blown-in fiberglass, R-38 batts, and 18-inch raised heel trusses, leaving ample room for insulation above the exterior top plates.
The home's foundation details include liquid applied waterproofing, a four-inch clean gravel floor, 10 mil vapor barrier, 2 inches of R-10 XPS foam on the interior walls, and R-19 open-cell foam in the band joists. Double-paned windows also benefit the home's overall high-efficiency profile.
A Winning Formula: Cost Competitive and High Performance
By identifying and utilizing building science practices that lead to high-quality, more energy-efficient construction, Insight Homes has honed its approach to home building, taking advantage of the best construction practices and products while maintaining a focus on delivering a home that will provide lower operating costs and long-term durability to the owners, yet still be priced competitively with the competition.