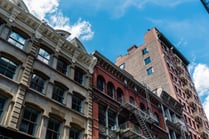 The Biden Administration on Wednesday announced a national initiative to advance building codes. The effort is designed to help state, local, Tribal, and territorial governments adopt the latest, current building codes and standards. Doing so, it says, will boost resilience to hurricanes, flooding, wildfires, and other extreme weather events, which are intensifying because of climate change. The added benefit is lower utility bills, especially for underserved communities.
Evidence-Based Determination
Extreme weather events increasingly threaten American homes each year, and the toll is exponentially greater on underserved communities. Every dollar invested in building code adoption, the administration says, provides 11 times[1] more savings by reducing damage and helping communities to recover more quickly.
Data on the benefits of strong building codes is growing. For example, according to the Insurance Institute for Business & Home Safety (IBHS) in a 2021 report, Rating the States,
strong, modern building codes that are based on the latest science and engineering knowledge have repeatedly been shown to reduce damage and destruction caused by hurricanes along the U.S. Gulf and Atlantic coasts. Further, modernized building codes can save an average of $162 million each year[2] on utility bills. Yet, two out of three communities in the U.S. have not adopted the latest building codes and, as a result, are vulnerable to climate impacts and higher energy costs.
The Details
Under the initiative, the Biden-Harris Administration will:
Review federal funding of financing and building construction to ensure federally supported housing and other building projects follow modern building codes.
Tap $225M from the bipartisan infrastructure law funding for the Department of Energy to support the implementation of updated building energy codes to create jobs, including through workforce training partnerships and direct support to state and local agencies.
Provide incentives and support for communities to adopt current building codes and standards by providing technical assistance, implementing proven strategies and practices, and using mapping tools to track code adoptions.
Leverage the opportunity to advance "above-code" resilience and energy efficiency standards in new projects, as well as develop the first Federal Building Performance Standards to help achieve net-zero emissions across new and existing federal buildings by 2045.
To read the complete details of the initiative, access the administration's fact sheet here.
[1] https://www.nibs.org/projects/natural-hazard-mitigation-saves-2019-report
[2] https://www.energy.gov/articles/secretary-granholm-announces-new-building-energy-codes-save-consumers-money-reduce-impacts