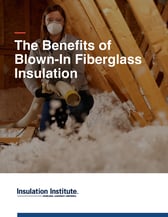 Blown-in fiberglass (or loose fill) insulation is increasingly popular in new residential construction and in renovations, accounting for 19 percent of current insulation market share and growing[1]. More stringent energy codes, the ease of installation, as well as the safety and health profile of the product over other insulation types have all contributed to the steady growth in use.
Our new guide, The Benefits of Blown Fiberglass Insulation, details the most valued attributes of blown-in fiberglass – including proven thermal performance, sound-dampening capabilities, and non-combustibility. The guide also mentions that blown-in fiberglass is recommended as one of the best insulation materials from a health perspective[2].
Download the guide here.
[1] https://www.homeinnovation.com/trends_and_reports/trends/insulation_choices_revealed_in_new_study
[2] https://assets.ctfassets.net/ntcn17ss1ow9/5enzn1YjM0Md8PW2ucdWtx/a5be5b5a082a02c7d34af1bb96d1b689/NRDC-3084_Guide_to_Healthier_Retrofit_ES_single.pdf