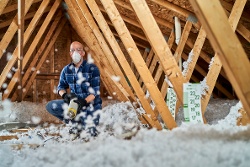 "We need to think about insulation, or to start thinking about it in the first place," says a Vox news story this week. As part of a series that addresses our warming world, Vox writer Neel Dhanesha calls insulation the climate solution hiding in our walls. There's no time like today -- Earth Day -- to talk about insulation's important role as a tool for pollution reduction.
The Case for Retrofitting
Buildings make up 40 percent of U.S. energy consumption. Adding insulation to buildings to cut their energy use would significantly reduce greenhouse gas emissions. The Natural Resources Defense Council (NRDC) estimates that residential energy efficiency could be the largest source of reduced greenhouse gas emissions in the U.S. In fact, a 2016 study[1] showed that increasing insulation in all single-family homes could cut 80 million tons of carbon dioxide from power plants.
But we're far from that state of energy efficiency now. Ninety percent of American homes are under insulated, according to research from Boston University, which has serious climate impacts and directly affects home occupants. Improving insulation has a number of benefits besides carbon reductions, including improved health[2] and comfort and increasing passive survivability – the ability to retain comfortable building temperatures without power. Add those to the enormous greenhouse gas/carbon emissions reductions, and you have a strong case in support of a massive U.S. insulation retrofit campaign. Yet much of our energy efficiency focus in America is dominated by sexier technological solutions such as using giant cement blocks or our electric vehicles as batteries for our homes and businesses. These solutions may sound promising, they are only in the early stages of development, while increasing insulation is a tried-and-true method of saving energy.
The Rodney Dangerfield of Fixes
While insulation isn't the sexiest of solutions, its demonstrated ability to reduce energy use and cut carbon dioxide from power plants is critical to solving our climate emergency. For example, increasing insulation in all single-family homes in the U.S. would cut 4.7 percent of annual carbon emissions from power plants or the equivalent of taking 15.6 million gas-powered cars off the roads.[3] Moreover, a recent alarming report on climate change makes it clear that every effort to cut emissions counts.[4]
Insulation is a relatively easy fix that hardly gets its due respect. Blowing loose fill insulation into an attic, wall cavity, or between floor joists and sealing cracks and gaps can be done relatively easily and can save homeowners money. But the reality is U.S. homeowners are more likely to get LED light bulbs or energy-efficient appliances than they are to re-insulate their homes because it can be disruptive and more costly.
But it is also doable. Programs like DOE's Weatherization Assistance Program provide grants to state and local governments to assist low-income households in making efficiency improvements. Other programs have targeted commercial property owners to address decarbonization, but they are unlikely to scale absent a larger governmental push.
Elevating Decarbonization, Centering Insulation
As we celebrate this Earth Day, it's encouraging to see more and more emphasis on the role insulation plays as a means to reduce pollution. Coupled with other technologies like electric heat pumps and photovoltaic panels, the improvement in building energy efficiency could be significant. But it all starts with the envelope. Perhaps the will to mount a national insulation retrofit campaign will materialize. Let's hope so.
Maybe the will to mount a national insulation retrofit campaign will materialize in the U.S. In the interim, we will keep the focus on energy-efficient, well-insulated construction because it's an easy win for people and the planet.
[1] https://iopscience.iop.org/article/10.1088/1748-9326/11/3/034017/meta;jsessionid=453A5BA99C74E0C82D1712BA255619FC.c4
[2] https://e4thefuture.org/wp-content/uploads/2016/11/Occupant-Health-Benefits-Residential-EE.pdf
[3] https://iopscience.iop.org/article/10.1088/1748-9326/11/3/034017/meta;jsessionid=453A5BA99C74E0C82D1712BA255619FC.c4
[4] https://www.vox.com/23009894/un-ipcc-climate-mitigation-report-ar6-summary