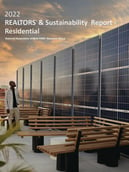 The National Association of Realtors® has just released the results of an annual survey of its members on green home features. The 2022 Realtors and Sustainability Report shows that half of realtors have helped clients buy or sell a home with green feature – a sharp increase from the 32 percent of the previous year. Additionally, 63 percent stated that having energy efficiency information in listings is somewhat or very valuable in selling a home.
Top Takeaways
Fifty-one percent of respondents reported that clients were at least somewhat interested in sustainability. House hunters are likely interested in these homes for two reasons: 1) lower cost of operating a more energy-efficient home, and 2) perception that such homes command a higher selling price at resale.
Realtors largely agree that sustainable or green homes command a price premium. However, 65 percent of those surveyed said they're not sure of the impact in terms of dollar value that a high-performance home would command compared to standard homes. Eleven percent of respondents said high-performance homes have an increase in dollar value of one to five percent, while five percent said the value increase was six to 10 percent.
Identifying homes with green features is done primarily through Multiple Listing Service green data fields. Thirty-five percent of survey respondents said their MLS had green data fields, and nine percent said they did not have this information. Among respondents that reported having MLS data on green features, 35 percent used this information to promote the home, 24 percent promoted the energy use information, and 13 percent promoted green certifications.
Most agents and brokers (63 percent) believe that energy efficiency promotion in listings is very or somewhat valuable in selling the home.
Other Interesting Findings
Thirty-four percent of realtors are concerned about the rising threat of climate change and extreme weather to their business.
Green home features that realtors felt were most important to clients included windows and doors, proximity to frequently visited spaces (38 percent), a comfortable living space (35 percent), and a home's utility bills and operating costs (20 percent).
More than half of agents and brokers (51 percent) say consumers were somewhat or very interested in sustainability.
Why It Matters
In today's housing market, with the threat of rising interest rates and energy bills, operating costs are a huge concern for potential homebuyers. Whether a home is new construction or a resale, promoting green or high-performance features to potential buyers – more than half of whom cite interest in such information – is a smart move that can help the home command a higher selling price. Features like high-performance windows, proper insulation, and green certification are highly desirable to many of today's buyers[1] and should boost interest in the home.
[1] https://www.forbes.com/sites/ryanserhant/2021/11/09/8-eco-friendly-features-to-add-to-your-home/?sh=4002529c591d