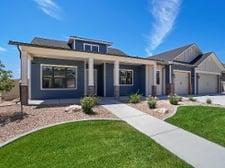 With affordability at the top of the list for home buyers today, shopping for a home that will be budget-friendly to purchase and own is a priority for most buyers. A new one-stop shopping platform for energy-efficient homes is looking to change how Americans buy homes by elevating energy efficiency in the purchase process. Furthermore, it's giving buyers of energy-efficient homes up to two years of free electricity as an incentive to buy a home.
Insulation Institute spoke this week with HouseX Labs Co-Founder David Goswick about the company's mission to make every home smarter, healthier, and zero energy ready, while costing less than a traditional home to own, operate, protect, and maintain.
What is HouseX?
HouseX is led by a team of experienced, licensed real estate brokers. The brokers represent homebuyers seeking energy-efficient homes built by any one of more than 1,000 builders, including the nation's top builder, D.R. Horton, in more than 10,000 communities nationwide. The price points range from $250,000 to over $2 million. The one commonality in these homes is that they all receive a Home Energy Rating System (HERS) score. HERS is nationally recognized for inspecting and calculating a home's energy performance. A HERS-50 uses 50 percent less energy than a house built to code. And that typically means lower energy usage, lower operational costs, and increased comfort for the buyer.
"Most homebuyers are interested in new construction homes because they know that the cost to own and maintain a home will be a factor when making a purchase," said Goswick. "Our goal is to provide homebuyers with enough information to make an informed decision about their home purchase and help them have more control over the unknown, such as what electricity costs will be, at least for the first two years."
HouseX earns a commission from the builder and uses two-thirds of that commission to pay the electric bill of the homebuyers during that two-year period. There's zero cost to the homebuyer. By exclusively featuring HERS-rated homes, HouseX provides buyers with the assurance they need to make one of the most significant financial decisions of their lives.
"The total cost to own, operate, and maintain these homes is lower. In addition, because the homeowner gets a copy of the electricity bill that is paid for them by HouseX, they see how much that bill is and can assess the impact of their behavior on the total costs of that bill," Goswick noted.
Energy Cost Burden for Buyers Can Be Substantial
The energy cost burden, defined as the percentage of gross household income spent on energy costs, can be substantial to home buyers, particularly low-income households and communities of color, where up to 9 percent of their income can be spent on energy. All other households typically spend around 3 percent of their income on energy costs. Regardless of income, consumers are stretched, with inflation having a larger impact on finances. "For homeowners, one kW in energy savings is just as important as a dollar saved on a mortgage payment," Goswick added. "We're leveraging data, technology, and timing to reduce unnecessary costs in finding and buying a home. HouseX is agnostic to the builder but not how the home performs. We see this as a way to empower consumers to get the information they need to understand how efficient the home is and will be in the future, which will have an impact on their ownership costs."
A Better Way to Buy
HouseX will also set up other home services for buyers, including other utilities, home security, cable, and phone services. A personal concierge will research the best providers, pricing, and promotions to create a home services plan for the buyer and make the connection with installers based on the buyer's schedule. This service is also at zero cost to the homeowner.
Goswick believes the transparency and convenience of the HouseX home-buying model will be a big draw in the long run. "We're offering a simplified experience for buyers of energy-efficient homes that will not only save them money but time. This is a better way to buy a home."