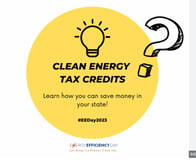 Next Wednesday, October 4, is Energy Efficiency (EE) Day 2023. This annual event, a collaborative effort of dozens of energy efficiency organizations, including the American Council for an Energy-Efficiency Economy (ACEEE), Advanced Energy United, The Alliance to Save Energy, Natural Resources Defense Council (NRDC), and the Regional Energy Efficiency Organizations (REEOs) promotes a simple message: Save Money, Cut Pollution, Save Jobs.
Celebrated since 2016, EEDay raises awareness of the importance of energy efficiency as the first fuel and promotes its myriad benefits, including lower energy costs, healthier homes, reduced pollution, and its benefits to economic development and job creation.
Show Your Support for EE Day
Whether you're a home builder, insulation contractor, HERS rater, or other building industry professional, increasing energy efficiency is a priority. Sharing messages and stories advocating for energy efficiency and highlighting its benefits is an impactful way to support the cause, educate the public, and elevate this issue.
The EEDay website has a wealth of shareable promotional information you can post via social media using the hashtag #EEDay2023 next Wednesday. This custom hashtag makes it easy to track other messages and entities as they share their content supporting the event.
"EEDay's messages are simple and resonate with all building industry members, especially as sustainability is increasingly discussed in board rooms," said Curt Rich, President and CEO of NAIMA. "This is a great opportunity for industry members to support the cause by raising awareness and disseminating messages of support for this event."
Click here for more information and resources to support the campaign.