Contributed by Modernize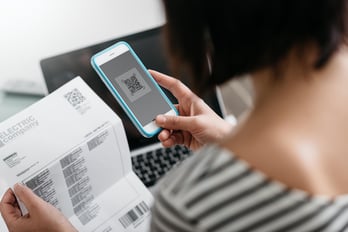 There's all kinds of potential for smarthome devices, from better security to an easier way to turn off the lights. But one of the greatest benefits—at least, environmentally-speaking—is the ability to provide more insight into a home's energy consumption. Stand-alone smartphone apps can offer suggestions for how to incorporate greener habits into a homeowner's daily routine. And then there are the device-centric apps, which integrate with existing smart products in the home—such as the utility meter or thermostat—to give homeowners a better readout of their energy use and saving.
For energy-conscious contractors and builders, the responsibility of educating consumers on how to use and understand energy-efficient products often falls directly on you. Many homeowners are eager to integrate such devices into their everyday lives, but the challenge of installing and effectively using the apps forms a big barrier to entry to many homeowners. Understanding these apps and their nuances will give you a big edge as more of your consumer base converts to smarthomes. Other apps make a good recommendation for homeowners who'd like to keep learning about their energy use and behaviors once you finish the job. Curious to hear more? Here are some of the most popular smarthome apps to help your clients meet their energy-saving goals.
Help Them Understand Their Energy Use
One of the big areas of confusion for many homeowners is how to track energy use from month- to-month. Manually recording these figures on spreadsheets or paper gets unwieldy quickly—and it takes some advanced math and computer skills to make sense of the numbers. Luckily, there are a number of apps available to homeowners to help with this process. Some, like Meter Readings and Energy Monitor Pro connect to smart meters to provide an in-depth look at a household's energy use and spending—as well as any other metered utility, including solar energy generation. Among the more useful features in these apps is the ability to create customized graphics and predict totals for next month's bill, which can help homeowners get a more high-definition look at how they use their utilities throughout the year.
Gamify Their Energy Habits
Let's be honest: energy conservation isn't always going to be glamorous. And it's a lot easier for clients to "set it and forget it" than to be constantly adjusting their thermostats or dedicating whole afternoons to energy efficiency projects like air sealing and insulation. Apps like JouleBug turn the work of saving energy into a game clients can play against themselves or with friends. Every time they do something good for the environment, like turn the temperature up on the AC or ask for a drink in a reusable mug, they're awarded points, which they can then use to win challenges or beat friends for the title of "most environmentally-friendly" in their group. Games like these are a good choice for a homeowner who doesn't need to know the nuts and bolts of energy-efficient equipment, but still wants to see what they're saving every month.
Help Them Understand Their Smart Grid
Many smart products still leave a lot to be desired. After all, IoT technology is only just in its infancy, so there are frequently communication misfires between devices, or products that promise a lot, but actually require a lot of setup or time with a proprietary app in order to be used. And sadly, these products have tons of potential, particularly when it comes to managing and conserving home energy use. LG's ThingQ® may be a step in the right direction, however. ThingQ® connects to smart grids to identify the times where demand for energy is low. It then notifies homeowners when it might be a good time to do their laundry or charge an electric car, or any other number of high-energy tasks that we perform in our homes. It even offers maintenance reminders so that users can keep track That should certainly help you educate clients on how to keep their expensive smart equipment in good working order.
Using Smart Thermostat Apps to Secure Your Energy Savings
Smart thermostats have been a boon to energy conservationists. They make the business of managing residential heating and air conditioning settings much simpler than a manual or conventional programmable thermostat. A major benefit is that these devices come with mobile apps, which give homeowners the ability to control the temperature with a tap on their phone or even through voice command. They'll show graphs of energy savings and conservation throughout the year, which makes it easier for a homeowner to see how the equipment is immediately benefiting their home. For example, Nest has an intuitive learning system, which automates the work of programming a thermostat for maximum comfort and energy savings. The Ecobee4, on the other hand, comes with remote sensor capabilities and a built-in Amazon Alexa speaker, making it compatible with popular home controllers—and voice command.
By familiarizing yourself with the latest in cutting-edge technology, you'll be doing more than just keeping ahead of the game in the industry. You'll also be helping your clients to save on energy costs—a perk that will resonate with homeowners interested reducing their environmental footprint and their cost of ownership.