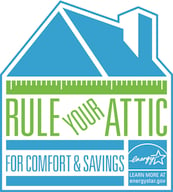 The U.S. Environmental Protection Agency (EPA) Energy Star program is set to conduct its annual "Rule Your Attic" promotional campaign beginning next month. The campaign educates consumers about the importance of air sealing and insulation by encouraging homeowners to measure their attic insulation and add more if needed.
The first phase of EPA's campaign will run beginning Sept. 14 through Oct. 2. A second phase is planned for late mid-November through early December.
Energy Star leverages its partnerships with manufacturers, retailers, utilities, and energy efficiency contractors to help educate homeowners on the problem of under-insulated homes. Nationally, nine out of 10 homes are under-insulated, which leads to higher utility bills and decreased home comfort.
In addition to raising awareness about the benefits of air sealing and insulating their homes, Energy Star and its partners also advise consumers that they may be eligible for tax credits if they add insulation to their homes.
How to Participate
If you're interested in participating in the "Rule Your Attic!" campaign, Energy Star provides a campaign overview, toolkit, and a list of helpful videos that can be shared on websites, Facebook, and Twitter using the hashtag #RuleYourAttic.
For more information, email insulation@energystar.gov.