Taking Performance to a Whole New Level

North American Passive House Network last month named Ken Levenson, co-founder of 475 Performance, as its new Executive Director. Levenson, an architect by trade, is a longtime advocate of building science and an enthusiast of the Passive House movement centered on ultra-efficient thermal envelope design and building comfort. More than 10 years ago, he became a founding board member of the New York Passive House. Given his new role, NAIMA reached out to Levenson to get an update on the movement, where it may be going in the future, and how NAPHN educates those in the building industry about Passive House design.
No Longer Emerging, But Maturing
In the decade since joining the Passive House movement, Ken Levenson has been one of its most noted proponents. He says the movement has come into its own, particularly in the past five years, with the number of practitioners, component suppliers, and certifiers growing exponentially. These new practitioners are providing more options, more cost savings, and enhanced capabilities to reach the Passive House standard.
"Building on more than 20 years of prior experience, the Passive House movement is expanding globally, both geographically, from China to Canada, but also in terms of the types of buildings, from a skyscraper office tower in Boston, to a municipal swimming center in the United Kingdom."
"There are many more commercial building owners engaging in Passive House and providing peer-to-peer knowledge sharing experiences, which in turn supports adoption accelerations," Levenson added.
What's been critical to that adoption is education, something that Levenson sees as foundational to advancing the technology that many mistakenly believe is just about greater energy performance.
"'Many may think that Passive House is just another incremental step toward higher performance, but it's much, much more than that. It's actually a different way to think and work. It's a different attitude, a re-engagement with the fundamentals of building: the materials, the components, the systems, and the integration of them all – creating an architectural structure. That itself produces a dramatically reduced energy balance, resulting in occupational health, comfort, affordability, and resilience."
NAPHN is focused on driving education in the Passive House movement, which is vital as more states pass laws with strict carbon reduction targets. "Those targets are creating demand for Passive House, since the technology actually meets these new and previously unimaginable government requirements. This can drastically reduce future regulatory risks for developers and owners."
Planning and Designing to Cut Price Premium
According to Levenson, one of the biggest misconceptions about Passive House technology for designers and builders is that it is a significant driver of costs. "Too often, the thought process starts with an existing building design that costs 'X' dollars, and then they ask, "how much will it cost if I upgrade it to hit Passive House targets? I tell them to forget about making that building a Passive House and come to me when they start thinking about the next one."
Levenson argues that designers and builders should make Passive House certification a programmatic requirement from day one. The proper way to handle the project is to assign a budget target that you'd typically expect given the size, scope, and schedule and then design and build to that target.
"With Passive House as a core integrated goal, it becomes clear that many other factors and decisions are much larger drivers of costs. If teams are disciplined, the fact is they can deliver a much higher quality product for minimal extra costs. And if the baseline for construction quality is decent, then it's conceivable that the Passive House could come with no premium at all."
Of course, the lower the baseline costs, the greater the challenge.
"It's a challenge of making quality construction that everyone deserves, accessible to everyone. We are seeing this becoming a reality with affordable multifamily housing. The final frontier is mass-market production housing," Levenson argues. "I believe that if production builders make Passive House a core goal, that they can make the numbers work, too. We should be challenging builders to do that."
The Benefits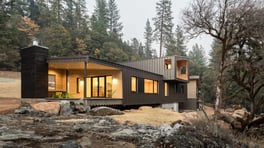 In a year that has seen people around the globe sheltering in their homes due to the pandemic and dealing with extreme heat and wildfires on the West Coast, resilience is an alluring benefit of Passive House.
The ultra-tight building thermal envelope means that the buildings can reliably provide safety, health, and resilience in extreme heat or cold. "Like your thermos keeping iced tea cold or coffee hot, so does the thermal enclosure passively maintain comfortable temperatures for extended periods of time," Levenson noted.
"In the desert or other areas when the nights provide cool temperatures, night flushing of the building with natural ventilation can maintain daytime comfort without tending. And if cooling is needed, it is a tiny amount and is affordable. Even on the hottest days, the air inside is fresh and comfortable as the ventilation system provides hygienic continuously filtered fresh air and 100% exhaust."
Levenson added that COVID-19 has allowed many people to rediscover the fact that Passive House was originally at the heart of a strategy to provide hygienic ventilation economically.
Challenge for Insulation Companies
Levenson believes as building practices have become more sophisticated, fiberglass and mineral wool insulation products will compete very well with other options. This is particularly true in the Passive House arena, where there is greater appreciation for what each component of the building brings to the assembly in terms of thermal, vapor, air control, durability, and environmental sustainability.
"I think the challenge for insulation companies is to innovate, so that like the evolution of Passive House Certified high-efficiency heat recovery ventilation units or window assemblies, insulation systems are produced to integrate with whole Passive House building design objectives," Levenson said.
Expand Your Knowledge with NAPHN Training
In addition to regular courses and an annual conference, NAPHN offers a weekly online introduction to Passive House presentations that Levenson delivers and has regular bi-weekly expert presentations on Tuesday evenings. Both provide AIA credit and are free.
Photo captions: Ken Levenson; A California Passive House project featuring Rockwool insulation