Profile of a Top One Percent Builder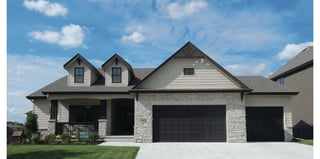 Since 2013 the U.S. Department of Energy's (DOE) Housing Innovation Awards has recognized the top builders of zero energy ready homes. Housing Innovation award winners represent the top one percent of builders across the country who meet the most rigorous specifications for high-performance homes. Among this year's 24 winners is production builder Charles Thomas Homes.
Founded in 2009, Charles Thomas Homes constructs high-performance homes that typically command a higher price than competing builders, but also deliver on energy efficiency and comfort, which is important in frosty climate zone 5. Part of the company's winning approach to constructing energy-efficient homes includes blown fiberglass insulation in the attic and walls, demonstrating that high-performance doesn't have to mean high price.
A Competitive Shift in Strategy
Tim Lowndes of Charles Thomas Homes constructed code-built homes in Nebraska from 2002-2008. But in 2009, the company committed to building high-performance homes at the peak of the housing market dip, when consumers were the most price conscious. When builders were cutting corners on things like air sealing and insulation to drop the price of a home by thousands of dollars, Lowndes said his company took a different approach. "I said, let's go the other way. Let's figure out what is the best way to insulate, to waterproof, to frame."
Lowndes began building to Energy Star® certification and received his first DOE Zero Energy Ready Housing Innovation award in 2015. DOE's Zero Energy Ready Home program requires homes to be built to Energy Star® Version 3.0 and the U.S. Environmental Protection Agency'S (EPA) Indoor airPLUS standards. Also, they must meet the hot water distribution requirements of EPA's WaterSense program and the insulation requirements of the 2012 international Energy Conservation Code (IECC). Finally, homes are required to have a solar electric system installed or have the conduit electrical space for it.
Also in 2015, the builder won an Indoor airPLUS leadership award from the EPA. The company recognizes that indoor air quality is a resounding feature for homebuyers. "Health is a big issue," Lowndes said in the Housing Innovation profile. "A lot of people are sick from their homes."
Given buyers' concerns about air quality, air sealing is emphasized in the company's semi-custom builds, which come equipped with radon detectors since Nebraska has the second-worst radon levels in the U.S. Radon attaches to dust, so air sealing is particularly important because less dust means less radon.
Design and Framing Details
Charles Thomas Homes award-winning properties include 2x6 wood studs at 24 inches on center. Advanced techniques such as stacked framing, California (3 stud) corners, and insulated headers are also utilized. Walls are filled with R-23 blown-in fiberglass blanket insulation with closed-cell foam used to air seal the exterior walls.
Engineered roof trusses have raised heels to accommodate blown-in fiberglass insulation at R-50 in the attic, which is air sealed with closed cell spray foam. This approach nets impressive results when homes are subject to blower door testing, with air leakage rates as low as 1.3 ACH50.
What it Takes to Deliver Performance
Delivering high-efficiency homes requires that builders coordinate closely and often with contractors so that construction details are clearly communicated and expectations met. Lowndes says the company uses in depth, written specifications to help keep subcontractors informed of the plans. An online system allows them to log in and obtain documents, and many components of the home are framed off-site in a controlled environment.
According to Lowndes, it costs the company roughly $10,000 more to construct a high-performance home than it would to build a code-built home. However, the payoff to the homeowners can be significant.
"Our goal is to be able to compete with builders who build code-minimum homes so our homes must have a similar design and exterior features to other local builders," he said. "We constantly say in our model home that it's what you can't see that matters."