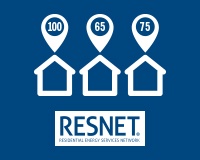 Residential Energy Services Network (RESNET) recently reached a significant milestone: 2 million Home Energy Rating System (HERS)-scored homes. This miles-per-gallon equivalent score assigned to estimate the energy efficiency of a home has rapidly gained market acceptance since its inception in 2006, and as energy efficient building becomes mainstream, the popularity of HERS ratings continues to expand rapidly. Today, 22 percent of new homes are HERS-rated[1], and that number will continue to grow, particularly as states adopt the energy ratings index (ERI) as an energy code compliance option.
First included in the 2015 International Energy Conservation Code (IECC), the ERI has been adopted by 15 states and more than 300 local jurisdictions. The ERI offers additional flexibility to builders by giving them more options to demonstrate compliance.
According to the Leading Builders of America (LBA), ERI also offers builders lower first costs, allowing them to select the most cost-effective measures that perform best for each home. LBA estimates that a level of energy performance that would cost $3,000 extra using the prescriptive approach of the IECC would cost just $1,300 with the ERI path, including the cost of the HERS rating.
Other Benefits of HERS Scores
There are other benefits to HERS scores for both builders and consumers. For builders, HERS scores offer a marketing advantage – a way to distinguish the builder from the competition. For consumers, HERS-scored homes are not only more energy efficient, which means lower energy costs, but they typically appraise higher. Moreover, more energy efficient homes have shown to have a lower mortgage default rate.
Another significant benefit of HERS rated homes is the lower environmental footprint, since a more energy efficient home has decreased greenhouse gas emissions. In the absence of a national policy targeting greenhouse gas reductions, state and local jurisdictions remain committed to the goal of reducing their environmental impact and increasing energy efficient building is a practical way to achieve their goals, since 40 percent of U.S. energy use comes from buildings.
[1] National Renewable Energy Laboratory