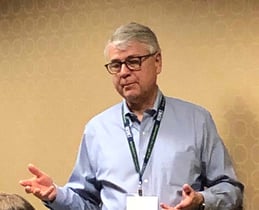 Thrive Home Builders is one of the most respected production builders in the country with a multitude of awards and accolades to prove it. The Denver-area company is well-known nationwide for its sustainable, energy-efficient construction, with 100 percent of its homes meeting a minimum of Net Zero Energy Ready status. Thrive commands a 10 to 25 percent price premium for its high-performance new construction homes, so one could assume that every product used in its builds would also come at a price premium. Yet, Thrive CEO and Founder Gene Myers told Insulation Institute that cost-effective blown-in fiberglass insulation is a preferred product in his company's homes.
Insulation That's Cost-Effective with Known Ingredients
Myers and Thrive Home Builders Community Sales Manger Nathan Crandall spoke to HERS raters this week during their annual meeting, addressing several topics related to how builders can better sell the benefits of energy-efficient, high-performance homes and how HERS raters can work more effectively with builders. One presentation focused on winning the hearts and minds of consumers by being transparent about the building practices and products used in their new home construction.
Consumers are more knowledgeable than ever about building products, the advantages of healthy indoor air quality, and sustainability. Thrive meets the buyer's interest with a wealth of information on the products and practices used in the home as well as details on how to optimize home performance after their purchase.
Cutting-edge design, the highest energy efficiency, and cleaner indoor air quality has distinguished the company from many of its market competitors and allows it to command a price premium, but that doesn't necessarily mean that only the most expensive products are used.
Myers told Insulation Institute that Thrive finds more value in traditional fiberglass insulation for several reasons, including its cost-effectiveness, availability of installers, and the fact that fiberglass insulation is made of recycled glass, and mineral-based ingredients you can pronounce.
"One of the reasons that we use fiberglass insulation is of course costs, but we continue to use it because we can tell our buyers what's in it," Myers said.
Myers said that high-performance homes, can be constructed with fiberglass and superior whole-home air sealing, especially in locations including the rim joists and the bottom plate – areas that can contribute significantly to air leakage in a home.
Meeting Consumer Needs
In an era when consumers want to know what's in the products they buy, where they come from, and how they are made, Thrive Home Builders provides consumers with detailed information about the products in their homes and the advantages they offer in terms of the home's performance. Allowing consumers access to this information is one way to connect with them on an emotional level, and it's also how the company sets itself apart from the competition. Another way that Thrive excels is through innovation.
Among its most recent innovations is adding QR codes to mechanical equipment so that the homeowner can scan the code and be informed about the operation and performance of the equipment and what maintenance may be required. It's forward-thinking but also a practical way to provide homeowners with the information they need to maintain their home in peak condition.
Thrive Home Builders proves that you can get a high-performance home using superior building practices while at the same time, using a cost-effective product like fiberglass insulation.