Pandemic May Drive Zero Energy Construction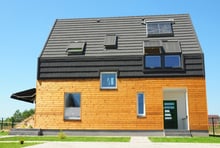 An increasing number of states and municipal governments are considering more stringent energy efficiency goals into their updated building codes. For example, new residential construction in several locales within Colorado must comply with the U.S. Department of Energy's Zero Energy Ready Home program. While Colorado may be on the leading edge, states that have targeted carbon reduction are ramping up efforts to move to more stringent building codes. The pandemic may accelerate that activity.
Low Carbon and Economic Recovery
Most U.S. states have set aggressive decarbonization goals but are falling short of reaching them in the most wasteful sector: buildings. The chronic crisis of climate change, plus the acute crisis of the COVID-19 pandemic, present an opportunity for state governments to accelerate their efforts to decarbonize buildings and fuel an economic recovery.
Earlier this year, in our blog post, "Five Promising Developments for Decarbonization," we reported that 2019 saw an increasing number of state and local governments targeting building emissions reductions. We noted then that long-term reductions in building energy use require the adoption and enforcement of more robust building energy codes. A study from the National Institute of Standards and Technology showed that the annual energy use reduction across all U.S. states from nationwide adoptions of the 2012 IECC relative to the current state energy code would range from 17 percent to nearly 22 percent. What we didn't know then was that COVID-19 pandemic would devastate global economies, resulting in job losses and driving more people indoors to shelter in place. What's becoming increasingly clear now is that accelerating decarbonization goals and focusing on a green recovery will address both the economic fallout from the pandemic and the greenhouse gas reduction goals still sought by state and local jurisdictions, even if the federal government is intent on withdrawing from the Paris climate agreement.
Other States Target Buildings
Earlier this year, leaders in Montgomery County, Maryland offered a new green building tax credit aimed at increasing the eligibility threshold for energy-efficiency standards in commercial and multi-family buildings. Under that proposed bill, new construction in the county would have to exceed the International Green Code (IgCC) to receive the proper tax credits. The legislation also proposed removing a cap on the total tax credits offered in the program, which is currently $5 million annually.
The IgCC includes measures aimed at reducing water use, carbon emissions, and electricity consumption, and provides the added result of boosting economic activity and creating societal health benefits. The county's council has also previously considered a net zero mandate for new construction, similar to that of California. [1]
Other states, including Hawaii, New York, Massachusetts, Oregon, and Washington are aiming for carbon reduction goals and net zero commitments that may be accelerated by the desire to address urgent crises of climate change and economic recovery needed in the wake of the pandemic.
Preparing for Net Zero
Builders must become educated on Net Zero Energy Ready and Net Zero (including solar PV) construction because it requires design and construction changes (including increased insulation ) that must be planned in advance. Whether the changes come to your area in several months or several years, the time to learn is now. You can find extensive resources on the U.S. Department of Energy's Zero Energy Read Home resources website.
[1] "A solar panel for every house? Md. Suburbs to consider California-style mandate (The Washington Post, September 26, 2019 – subscription required).