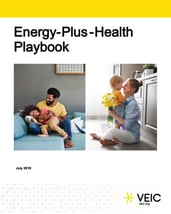 Transformations taking place in both the home energy efficiency arena and healthcare are coming together in ways that present opportunities for these industries to work collaboratively to improve outcomes for customers. VEIC, a sustainable energy company with a mission to enhance the environmental and societal benefits of clean and efficient energy use for all people, is out with a new Energy-Plus-Health Playbook. The playbook examines a three-tiered approach to targeting unhealthy and substandard existing housing conditions that cause energy burdens and compromise the household health of low- and middle-income customers.
Better Home Energy Efficiency + Better Health
The Energy-Plus-Health-Playbook concludes that collaborations between energy efficiency program administrators and health care providers can facilitate the creation of new programs and opportunities to target not only improved home energy efficiency in existing homes but better health outcomes for people. Such collaborations are increasing, and the playbook includes real-world case studies of programs that have been successful (See Section 6.1 of the playbook). Ultimately, the playbook is designed to help energy efficiency program administrators develop or expand healthy home programming, referred to as Energy-Plus-Health programs.
These programs allow energy efficiency program administrators to reach more customers and provide more extensive services, increase participation in weatherization and residential retrofit programs, improve the quality of life of low-income households and communities, and improve health outcomes while reducing health care utilization rates and costs. They also allow administrators to unlock new health-related funding streams to leverage utility ratepayer dollars for improved program outcomes.
Not Addressed: New Homes
While the Energy-Plus-Health Playbook addresses existing homes, the increasing trend toward building "certified healthy homes" (such as EPA Indoor airPlus) is indicative of the level of interest in energy efficiency's impact on health outcomes. Whether new or existing, homes that center on a whole-building approach to energy efficiency – including improved insulation, heating, cooling-systems, lighting, and energy-use equipment, can reduce energy costs and support warmer, drier, more comfortable indoor environments that lower the risk of illnesses and produce indirect physical health benefits. In fact, the International Energy Agency reports that energy-efficient homes can reduce:
Symptoms of respiratory disease
Stress and infectious disease
Risk of cancer, arthritis, depression, and
Symptoms of cardiovascular disease
Whether in new or existing construction, targeting home energy efficiency and positive health outcomes results in buildings that deliver documented benefits to occupants.
Note: Funding for this project was provided by E4TheFuture, which developed the playbook in partnership with VEIC.