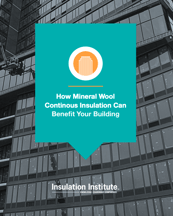 Mineral wool continuous insulation (CI) is increasingly used in both residential and commercial applications. Insulation Institute's new release, "How Mineral Wool as Continuous Insulation Can Benefit Your Building," reviews the many benefits of using mineral wool insulation as CI.
Mineral wool CI delivers excellent fire resistance, vapor permeability, and flexible installation. Architects and specifiers will also be drawn to its environmental profile, as the product can contain significant recycled content.
To download the publication, click here.