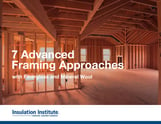 Lumber costs have skyrocketed in recent years. In addition, more stringent building energy efficiency requirements mean more builders are interested in advanced framing. The key to advanced framing success lies in the details for areas like corners, wall intersections, and around windows.
Our new guide, 7 Advanced Framing Approaches with Fiberglass and Mineral Wool provides tips on how to execute advanced framing, which allows for more insulation and reduces thermal bridging, with fewer framing members in walls. The guide offers details for specific areas, including:
Insulated corners
Ladder construction
Excessive studs around windows
Using high density batts as an alternative to a raised heel truss
Insulated non-standard floor joist spaces
Narrow cavities around windows
Insulated headers
The guide also explains why nailing the details is important in each area and how to insulate each area properly.
Download the guide here.