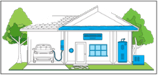 This past Spring, the U.S. Environmental Protection Agency's ENERGY STAR Program launched a new initiative, the ENERGY STAR Home Upgrade, targeting six high-impact energy efficiency improvements for existing homes to cut energy use and cost. These fixes will also improve home comfort and lead to a cleaner, healthier home.
With clean energy projects and investments growing every day, ENERGY STAR is urging homeowners to prepare for a clean energy future by making these investments today.
Targeted Home Improvements
ENERGY STAR's recommendations for an energy efficiency home upgrade cover six specific improvements that range in cost from $200 to several thousand dollars, however, when completed, the upgrades will deliver significant benefits. In many cases, tax credits and rebates may be available to help offset the costs. Here's a look at the recommendations:
Energy Efficiency Year-Round
ENERGY STAR Program Manager Doug Anderson says that homeowners can start by contacting their local gas or electric utility to find possible rebates and lists of pre-screened contractors. For insulation installs, homeowners can also reach out to a BPI-certified contractor or to Owens Corning's Certified Energy Experts. They can also access information about products, rebates, and tax credits, as well as learn tips for hiring a home energy contractor from the ENERGY STAR Home Upgrade Tool. He also noted that the U.S. Department of Energy (DOE) has increased its efforts to promote energy-efficient technologies, especially heat pumps, as the best option for efficiently providing comfortable temperatures year-round in buildings.
Each year, ENERGY STAR's Rule Your Attic campaign encourages homeowners to measure their attic insulation and check for air leaks, then air seal and add insulation if needed. The ENERGY STAR Home Upgrade Program is a more holistic approach encompassing the most impactful changes homeowners can make today to have a more energy-efficient home, increase comfort, and save money.