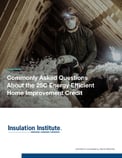 NAIMA has just released a new guide covering the most frequent questions raised by insulation contractors and others in the building industry about the 25C Energy Efficiency Home Improvement Credit. The four-page guide clarifies various elements of the credit, including:
What is considered an eligible expense?
Is a certificate of insulation product purchase required?
Can a taxpayer claim the credits for expenditures incurred for a newly constructed home?
Are the credits available for improvements made to a second home or an investment property? And more…
Click here to download the guide.