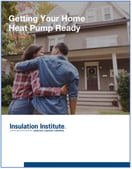 Heat pump technology is all the rage in the push for electrification and increased home energy efficiency, and with good reason: heat pumps are more efficient than electric resistance heating, reducing electricity needed for heating by up to 50 percent. However, there are several actions that homeowners should take before adding a heat pump so that the equipment operates optimally. These actions could help reduce the size of the equipment as well as the cost. NAIMA has produced a new guide, Getting Your Home Heat Pump Ready, that details the actions homeowners should undertake before adding a heat pump to improve their home's overall energy efficiency.
Those steps start with improving the home's thermal envelope by sealing air leaks and insulating the attic, walls, basement, and crawlspace. Other items that should be addressed to improve the thermal envelope include replacing leaky windows and doors.
The guide also details the energy efficiency incentives included in the Inflation Reduction Act that can help offset the cost of the home energy efficiency retrofits and information on how homeowners can get started with this work.
Click here to download the guide.