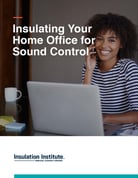 Experts predict that 20-30 percent of the U.S. workforce could be working from home multiple days per week by the end of 2021.[1] With this shift to remote work, a dedicated home office becomes essential, and optimizing that space for functionality and comfort is a top priority.
One of the most important priorities is designing an office space that limits noise. NAIMA has just released a new consumer guide, Insulating Your Home Office for Sound Control, that identifies simple, affordable, and easy-to-complete changes that help control unwanted sound in your home office.
Download the guide here.
[1] https://globalworkplaceanalytics.com/ work-at-home-after-covid-19-our-forecast