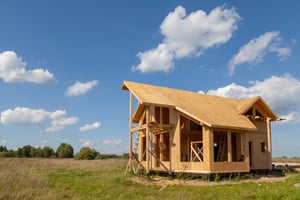 What was a lofty philanthropic effort by actor Brad Pitt has morphed into a disastrous example of how poor construction of affordable, energy-efficient housing can negatively impact homeowners and put the builder and building designer in a precarious position.
NOLA.COM reported this week that in 2007, two years after Hurricane Katrina, Make it Right Foundation, organized by Pitt, set a goal of constructing 150 energy efficient, sustainable and affordable homes for residents of Louisiana's devastated Lower Ninth Ward. The foundation constructed 109 homes, but just 11 years after the start of construction, reports say that some homes have issues including rotting wood, mold growth, dangerous air quality, and rusty sockets. The majority of the homes are currently unoccupied and some have been demolished.
It's an unfortunate turn in what should be a goodwill story, but it also provides some valuable lessons for home designers and builders.
You Have to "Get" Basic Building Science
Building Science know-how is the key to improving building performance, and meeting home buyers needs for a comfortable, durable and energy efficient home. It's essential that architects, builders, and their trades understand the roles of the different components of a home. Yes, modern science has provided us with very efficient windows, surfaces that reflect heat well and insulation and air sealing products that will perform well, but one must consider the site and the local climate when constructing a home. Louisiana is in the warm-humid part of Climate Zones 2 and 3. How you construct a wall system for such a climate differs from how you'd construct one for a cold, dry climate.
Regardless of the climate zone, builders and designers must choose building practices and materials that control the flow of moisture, heat, and air within the assembly to ensure a healthy and durable home. Product degradation evidenced by wood rot and rusting fixtures in such a short period of time might indicate that the person who designed the homes didn't understand basic building science or how to apply its principles toward proper construction for this climate zone.
(Here at the Insulation Institute we believe getting building science right is one of the most important priorities in new construction. That's why we teamed up with Dr. Alison Bailes at Energy Vanguard to produce this guide to understanding a systems approach to better homes, Building Science 101. )
Affordable Shouldn't Mean Poorly Constructed
Quality construction should be an objective of every new home construction project, regardless of the price point for the home. Durability as well as occupant health and well being should be at the forefront of each new project. This should go without saying, but a rapidly deteriorating home is anything but healthy, sustainable, or affordable.
Reputation Hits are Tough to Recover From
The foundation is being sued by two of the homeowners who bought homes in the development, but the damage to the reputations of those involved has been done. Widespread press coverage of the building failures has resulted in negative publicity and sullied a humanitarian effort that would have otherwise been laudible. These incidents can be difficult to recover from and must be avoided if long-term success in the building industry is your goal.
The bottom line is that those involved in the design and construction of homes must understand building science and doggedly pursue quality construction at every price point. If that happens, the likelihood of having to recover from a similar failure, decrease exponentially.