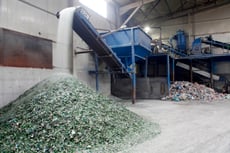 NAIMA recently announced the results of its annual recycled content survey, which reports its members' use of recycled materials. In 2021, NAIMA members in the U.S. and Canada used more than 3.3 billion pounds of recycled glass and slag in the production of residential, commercial, industrial, and air handling thermal and acoustical insulation.
More specifically, the data showed that in 2021 facilities in the United States used more than 2.2 billion pounds of recycled glass, while Canadian facilities used more than 411 million pounds. U.S. and Canadian facilities reported a combined use of over 729 million pounds of recycled slag in 2021.
Using materials derived from secondary sources not only reduces demand on virgin resources, but it also saves landfill space by diverting glass containers and slag from the solid waste stream.
Since the industry's recycling program began in 1992, NAIMA members' plants have diverted more than 71.2 billion pounds of recycled materials from the waste stream.