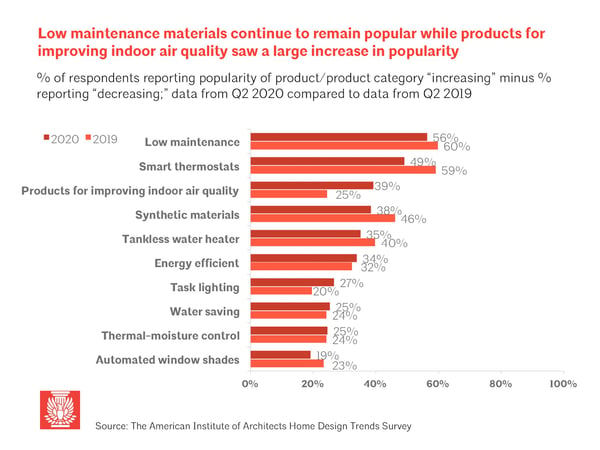 A plethora of new reports indicate that coronavirus is shaping home design trends in the U.S. and globally. Among them, the American Institute of Architects Home Design Trends Survey shows that more outdoor features and flexible spaces are highly desirable. The survey also shows products that improve indoor air quality, thermal moisture control, and energy-efficient homes are growing in popularity.
AIA's survey collects data from 425 architects or firms working with custom-home builders or renovators. Architects give input on whether certain types of rooms or products are increasing, decreasing, or are remaining popular. The survey found that with consumers spending more time indoors, there's growing interest in products that improve indoor air quality (up 14 percentage points since last year).
Products Improving IAQ
With recent evidence suggesting that COVID-19 may be transmitted through aerosol droplets that are airborne, consumers are now looking or IAQ solutions for their homes, whether new or existing. Builders and contractors have an opportunity to educate consumers on the difference between various types of indoor air filtration and ventilation systems. Consumers may know that indoor air quality is important to their health, but most will not know the difference between various IAQ solutions.
Ramping Up Healthy Homes Training
In response to the interest in IAQ, building performance companies are developing programs to ramp up training in the principles of healthy homes. One example is the Building Performance Institute's new Healthy Housing Principles Reference Guild and Certificate of Knowledge. The training and guide review the eight principles of healthy housing: keep it clean, dry, pest-free, contaminant-free, safe, ventilated, comfortable, and maintained.
"As we spend more time inside, there is growing concern that the indoor air environment may be negatively impacting occupant health, said BPI CEO Larry Zarker. "The main goal of this new certificate is to help health professionals, manufacturers, contractors, technicians, students, and countless others recognize the risk factors and use this knowledge to fix issues before they lead to major health problems.
Better Performance Through Building Science
Of course, the key to addressing many consumer concerns driving home design trends is an understanding of basic building science. Knowledge of building science can help contractors involved in home construction improve building performance and meet homebuyers' needs in terms of comfort, air quality, energy efficiency, and durability.
The Takeaway
Not every trend will necessarily change builder practices, but consumer interest in healthy homes is a trend that has been making news for years. Educating building industry professionals on the principles of building science and performance and then implementing those learnings is a smart way to stay ahead in the competitive homebuilding and renovation industry.