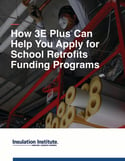 NAIMA just released a new guide designed to help schools apply for grant funding available through the U.S. Department of Energy (DOE) by making pipe insulation upgrades using our free 3E Plus pipe insulation thickness calculator tool.
The guide details which organizations can take advantage of the funding, how pipe and duct insulation upgrades can result in whole-building energy savings, and why these insulation upgrades are an excellent option for building energy efficiency retrofits.
With $80 million of the $500 million in grant funding now available, schools can leverage 3E Plus online calculator tool to document the savings potential of undertaking the insulation retrofits and apply for grant funds.
Download the guide here.