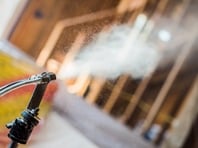 In home construction, getting great air sealing and insulation are the Holy Grail in delivering a high-performance home with an effective thermal envelope. The prevailing belief among many in the building industry is that only spray foam insulation can deliver the thermal performance and airtightness that is required but that simply isn't true. Moreover, installed costs are a top consideration for most builders, thus finding products that can help builders meet thermal performance and airtightness targets for less is important. Insulation Institute looks this week at new case studies for residential construction that show even the most aggressive airtightness targets can be met cost-effectively without using spray foam.
Hitting High-Performance Targets
Case studies of Aerobarrier, a water-borne acrylic sealant, show that it can deliver IECC, Energy Star, Net Zero, or Passive House airtightness requirements that enable an effective thermal envelope. AeroBarrier technology pressurizes the building envelope before injecting atomized sealant into it. System software tracks the process in real time as the sealant particles seal any leaks smaller than 1/2". Using this sealant with fiberglass or mineral wool insulation can help builders achieve the thermal envelope performance they seek and will allow the builder to meet any airtightness requirements -- whether it's the 3ACH50 required by IECC or the 0.6ACH50 needed for Passive House.
Residential Case Studies
Air sealing multifamily construction can be a challenge. One multifamily builder, Isola Homes, not only met but exceeded code-mandated airtightness targets and reached its overall thermal performance goals with the aid of Aerobarrier for its townhome development, as shown in this case study. Isola Homes leveraged the results to distinguish itself from other builders in the community and noted that contractors are key to reaching green building goals.
"Our homes must improve energy use by 20 percent over codes, so we work closely with contractors to find smart ways to achieve project goals," said VP of Construction Matt Deveny. The builder is part of the Green Built program, which certifies homes that exceed Washington state's county building codes using a rating system. One step in the rating system included having contractors seal the drywall using caulk. The added step was problematic.
"The drywall contractors would sometimes forget the extra step," Deveny said. "We would end up assigning someone on our crew to police the work to make sure it got done and sometimes even had to caulk around outlets and penetrations if we did not pass the blower door test." Working with energy rating and contractor firm Ekovate, the company chose AeroBarrier to air seal its homes and eliminate the issue.
Denver area builder Thrive Home Builders, a nationally recognized leader in high-performance construction, also experienced a significant reduction in air leakage and improved thermal performance in a multifamily project using Aerobarrier sealant and fiberglass insulation. Its case study shows a pre-sealing leakage rate of 5ACH50 was reduced to 1.6ACH50 using the product.
Thrive says prior to using the sealant, it was having issues with air sealing the garage separation wall. The builder was failing inspection, requiring the installation of fans to pass reinspection – an expensive, unsustainable solution.
"Our townhomes are grouped together in four, five, and six units," said Thrive VP of Home Building Operations Bill Rectanus. "This makes for a lot of shared walls. In addition to the sound and odor mitigation, Aerobarrier ensures air from each garage doesn't infiltrate any of the homes."
Comparative Cost v. Foam
Paul Springer of AeroSeal, the maker of Aerobarrier says that one of the most compelling reasons to use the product is its comparative cost versus spray foam.
"A builder could switch from the more costly insulation installations using open-cell spray foam to the AeroBarrier product with fiberglass or mineral wool insulation, with significant savings potential, according to our analysis." (See chart below.) There are other benefits as well.
Batt Insulation and Aerobarrier v. Spray Foam

Other Builder Benefits
An airtight thermal envelope also allows the builder to:
Right-size mechanical and duct systems
Consider more economical exterior air/weather barriers
Remove an extensive amount of manual air sealing details and packages
That all sounds great, but when it comes to high-performance building practices, the devil is in the details. Proper application is critical, so training is essential.
Training Offerings
As we've written previously, many builders find meeting the 3ACH50 airtightness target to be particularly challenging in achieving the required thermal performance, and insulation installers should be properly trained.
Aerobarrier application requires insulation contractors to complete a training program, which includes classroom training and multiple-day field training with a Quality Assurance trainer. The product offers the builder a guarantee that the home will pass any blower door test requirements. "We also have a full staff of tech support and network support resources to help our installers once they are up and running." Springer noted.
Delivering a thermal envelope that is effective and affordable will appeal to a broad range of builders, whether they are targeting code-built homes or high-performance construction.