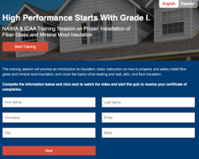 According to the U.S. Department of Energy, improperly installed insulation and air leakage can waste 20 percent or more of the energy used to heat and cool a home.[1] For builders, this can wreak havoc on productivity, resulting in callbacks, jeopardizing code compliance, reducing HERS scores, and delivering homes that are less energy efficient and comfortable for homeowners.
Insulation contractors play a significant role in ensuring the proper installation of batt and blown-in insulation. That is why NAIMA and Insulation Contractors Association of America (ICAA) developed online Grade I installation training. The 20-minute online training delivers basic instruction to insulation contractors on how to install fiberglass and mineral wool insulation properly and safely. It also reviews air sealing, wall, attic, and floor insulation installation.
At the completion of the online video training, individuals will receive a certificate of completion for the course.
Access the online training https://insulationinstitute.org/tools-resources/grade-1-insulation-certification-training/
[1] https://www.energystar.gov/ia/new_homes/features/AirSealing_062906.pdf?5315-e22b